Is your child begging you to get them a bike? Here is a Schwinn vs Huffy kids bike review that has tips to help you buy the right kids bike for your child.
My neighbor's son suffered bike-related injuries due to faulty components in his bike. I knew I had to get something better when he reached a safe age to ride. Some of the issues I noted were wobbly frames and brakes that do not work. These were two things I remained vigilant about when getting my son a bike. As I went through various brands online, two particular bikes caught my eye. The Huffy Kinetic boys bike and the Schwinn Koen's boys bike. Both bikes had solid frames and reliable braking systems. I knew I will have to dig a bit deeper into the features so I get the right bike for my son.
Difference between Schwinn and Huffy kids bike- How do they compare
| | | |
| --- | --- | --- |
| | Huffy Kinetic Boys Bike | Schwinn Koen Boys Bike |
| Frame | Steel | Steel |
| Front and Rear brake | Yes | Yes |
| Wheel Size | 16†| 12â€, 14â€, 16â€, 18â€, 20†|
| | | |
Schwinn vs Huffy Kids- A Detailed Comparison
Material
If you are buying a kids bike that will last your child for years, it has to come with a quality frame. Huffy Kinetic kids bike features a strong and durable steel frame. No matter how much your little tot experiments with his bike, you do not have to worry about a broken frame. the frame height is between 42 to 48 inches and suits kids from the age of 4 to 6 years.
Schwinn Keon kids bike also comes with a steel frame. The frame measures between 38 to 48 inches which suits kids between 3 and 5 years old. Your kid can ride through pebbled paths or bumpy surfaces and the frame maintains its integrity.
Braking System
A kid's bike must have a reliable braking system to avoid your son riding into a thistle bush. Both bikes feature rear coaster brakes and front caliper brakes. This allows you to teach your son how to use the brakes at an early age. A reliable brake system also assures you that your son will be safe while out riding.
Wheel Size
Kids love the thrill of pedaling fast to watch their bikes zoom at high speeds. They are also likely to get tired quickly because of the rigorous pedaling. A good kid's bike comes with large tires which have a wider clearance. This means your kid will only pedal less to see their bike go fast.
Huffy Kids bike addressed this problem by incorporating 16 inch tires. These tires are big enough to cover more ground and also increase traction. Schwinn did it way better by having their Koen boy's bike in 5 different wheel sizes. This bike comes in wheel sizes of 12 inches, 14, inches, 16 inches, and 18 inches. There is also a 20-inch wheel option for the 6-year-old who are already experimenting with wheelies.
Huffy Kinetic Boys bike review
Huffy Kinetic boys bike comes in a silver frame with yellow stripes to complement. The handlebar grips and the wheels are yellow as well. There is some yellow on the saddle as well as the front break wire.
This bike includes training wheels to give your child the confidence of riding. They can quickly learn how to balance. Steer, and pedal without the worry of falling offer. When they finally learn how to ride, unscrew the trainers and turn the bike into a two wheeler.
A riser handlebar ensures your child rides in an upright position. The saddle has padding for comfort and is adjustable to vary the stand over height. As long as your boy is between the age of 4 to 6 years, he will find this bike fun to ride. A sturdy steel frame ensures your child enjoys more years on this bike before graduating to something bigger.
Pros
Strong and durable frame
Training wheels for first learners
Large wheels for great performance
Cons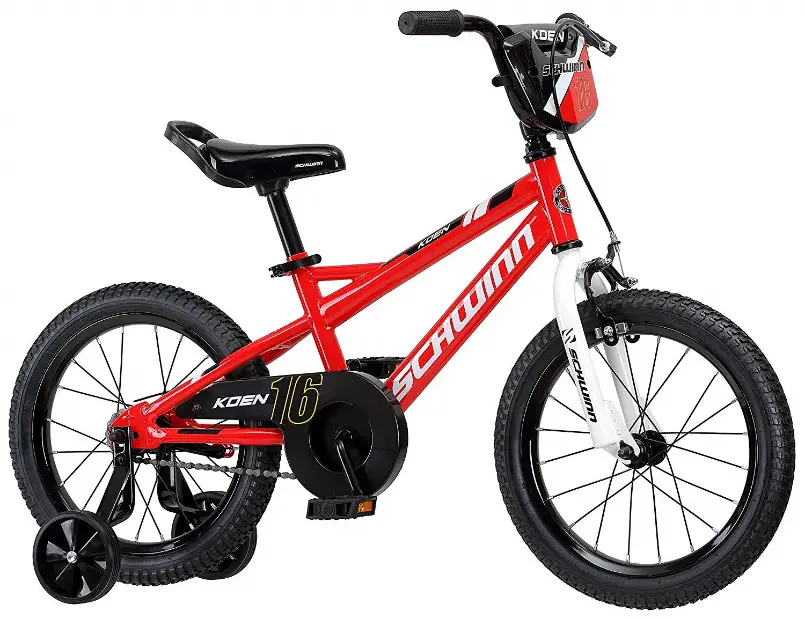 Schwinn is one of the leading brands in adult and kids bike. The same quality maintained on their professional adult bikes trickles down to the kid bikes as well. This Schwinn Koen bike comes in a steel frame that is tough enough to take a beating. Whether your son is a gently rider or a daredevil full of mischief, this bike will accommodate all his whim.
This bike comes in several wheel sizes which increases variety in riding experience. You can start off your son on the 12 inch or 14 inch wheels as he grows his confidence in riding. When he masters the art of riding, graduate him to 16 inch, 18 inch or 20 inch wheels. The bigger wheels will help him cover more distance on his bike without getting tired.
Schwinn Koen boys bike comes in three colors as well. Buy this bike in either a black, blue, or red frame. the rest of the bike components are in black to complement the frame's color. The rear coaster and front caliper brakes make slowing down or stopping easy for your son. The saddle has padding to ensure your son is comfortable while cruising through pebbled paths.
Pros
High quality steel frame
Variety in wheel sizes
Great color variety
Cons
Some components are cheap
Conclusion
Not all of us put a lot of thought into buying a kid's bike. As you have learnt from the Schwinn vs Huffy Kids bike review, it is important that your child finds that first bike special. There are features to look out for that make the best child bike as you have read above. As I wind up, my winning child bike has to be the Schwinn Koen boys bike. They decided to give more variety in wheel size which to me was a stroke of genius.
FAQ
Schwinn of Huffy which is better?
Though Huffy makes bikes for kids, they cannot match the quality of Schwinn bikes. When buying a Schwinn kids bike, go for the high-end versions which are better quality.
Is Huffy Still in Business?
Huffy is a major bicycle company in the USA. The bike company once had a production plant in Ohio which closed in the late 90s. Today Huffy outsources production to China.
Schwinn vs Huffy, which is more affordable?
Huffy bikes are cheaper because their creator outsourced labor to China. Schwinn may be expensive compared to Huffy, but their bikes are better quality.
Does Schwinn or Huffy have a better cruiser bike?
Huffy cruiser bikes are normally stocked alongside other Chinese brands. This dictates the quality of Huffy bikes compared to Schwinn.