Finding the right mountain bike is vital if you plan to go hiking and are not sure of the terrain. Our review of Schwinn vs. Huffy mountain bikes digs deeper into how these two giants compare.
I work as an accountant at an Insurance company. Weekdays can be hectic, and that is why I often take the weekends off and travel to the nearest hilly terrain for some mountain bike hiking. I have maintained this schedule for the last two years – eventually convincing my wife, co-workers, and son to join me. If you plan to have an easy time hiking, then you have to be extremely careful picking the right mountain bike. Bikes with enhanced suspension help absorb shock along uneven terrain. The gear system has to be just right to accommodate low ratios suitable for mountain climbs. It can be time-consuming trying to choose a winner between these two, but we have taken the time to analyze two of top mountain bikes from each brand.
What are the differences between Schwinn 29†and Huffy Nighthawk? How do they compare
| | | |
| --- | --- | --- |
| Model | Schwinn 29†men mountain bike | Huffy Nighthawk |
| Wheel size | 29†| 26†|
| Speed | 21 trigger shifter gears | |
| Suspension | Full suspension | Front suspension fork |
| | | |
Schwinn vs. Huffy – Quick roundup
Braking system
Braking is a vital component for any mountain bike. The Huffy Nighthawk is equipped with a rear alloy linear pull brake while the front is equipped with disc brakes. This offers the biker with the necessary braking power during steep descents. The Schwinn 29†mountain offers front and rear disc brakes and this makes it better at handling emergency stops than the Huffy Nighthawk.
Body frame
The Schwinn 29 inch comes in a sturdy aluminum frame with inclined handlebars. The saddle is adjustable, and this assures you of a smooth ride in spite of your body size. You will have an easy time coming to a halt during hilly descents courtesy of a modern hydraulic system. The Huffy Nighthawk frame is made from a durable steel frame that is adorned with matte black coatings.
Performance
A great mountain bike requires more gears to handle steep hills. When it comes to performance, the Schwinn does an amazing job due to its 21 trigger shifter gears that work well with the Schwinn's 29-inch wheels. The Huffy 18 speed gears and 26-inch wheels are no match for the Schwinn. However, the gears being Shimano make do offer a smooth ride. The Schwinn performs well even on flat terrain due to the fast and efficient gear shifts.
Schwinn 29-inch men mountain bike Review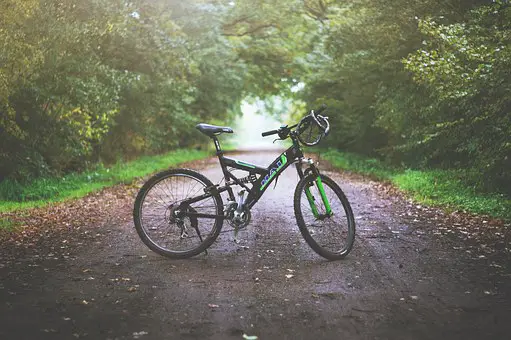 If you are looking for something rugged to handle rough terrain, then the Schwinn 29 inch wheels are large enough for a mountain bike. With large wheels, you are assured traction control, and this eliminates chances of slipping.
For enhanced braking, you have front and rear wheel brakes. This grip the wheels whenever you are coming fast on hilly terrain. Suspension forks in both the rear and front wheels ensure that you enjoy a comfortable ride even when you are riding on bumpy terrain.
A 21-speed trigger shifter gears – that offer an effortless ride when doing steep areas – powers the Schwinn. The hydraulic brakes put your safety inconsideration and enable you to come to a complete halt whenever speeding.
Pros
Large 29-inch wheels provide necessary traction control
Hydraulic brakes for enhanced safety
Full mounted suspension for a smooth ride
Alloy wheels for stability
Cons
Not the ideal bike for short people
 
Huffy Nighthawk mountain bike Review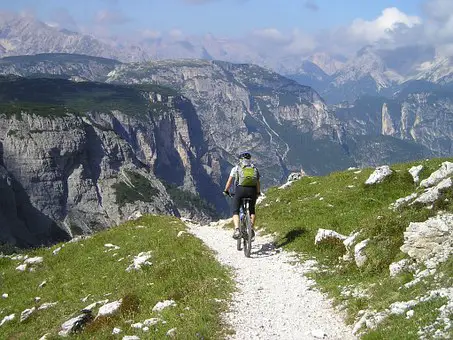 The suspension fork in this mountain bike provides a smooth ride even when handling tough terrain. The bike stands out due to its creative design that is adorned with bold green and white colors.
Huffy Nighthawk runs on an 18-speed index shifter gearbox that is easy to operate. You are assured of superior performance because its Shimano made.
The bike has offered a comfortable ride due to its ATB saddle, and you have enhanced braking power courtesy of front disc brake – the rear feature a pull brake on the alloy.
Pros
Superior braking due to the rear alloy pull brake and front disc brake
Alloy rims
18 speed Shimano gears for enhanced performance
Cons
Suspension not that great
 
Conclusion
It is a challenge settling for a mountain bike in this Schwinn vs. Huffy review. If I had the budget I would settle for both. But, in all honesty, the Schwinn comes out as a better mountain bike. You have large 29-inch wheels and full suspension when coming in handy when you are navigating bumpy terrain. The 21-speed gears broke for an effortless ride across all terrains. The Huffy Nighthawk does have positives when it comes to design – it is more appealing and stands out.
FAQ
How tall should a person be to ride a 29-inch bike?
The 29-inch mountain bike is great for persons over 6 ft and above. Shorter people may prefer the bike for shorter rides, but it can be uncomfortable when you are handling rough terrain.
Can you convert your mountain bike to a road bike?
Yes, it is possible, but you need to make some adjustments. First, increase the air pressure on your suspension to make them stiffer. You will also need to inflate your tires to around 40-50 PSI. Alternatively, you can change the tires to slick tires suitable for tarmac roads.
What is the ideal weight for a mountain bike?
This will vary with the mountain bike brand, but you should expect weights of 21 to 29 pounds for most bikes. The enhanced front and rear suspensions plus large tires contribute to the significant increase in mountain bike weight.
If I have a lighter bike will I go faster?
The bike's frame can significantly affect the speed of the bike. Carbon racing bikes are lighter, and this makes some faster when compared with aluminum or steel framed bikes. If you are racing, then that additional weight gain can cost you a few seconds on the race, but if your bike is for recreational purposes, it does not affect speed so much.