Are you looking for a versatile bike designed for both city and terrain cruising? This Schwinn vs Mongoose review gives you the right tips to find such a bike.
Mountain bikes have always been a favorite for me. The hardest task is getting to replace an older bike because my needs are ever changing. The last time I went mountain bike shopping, I wanted a product that was versatile. A bike that can scale up a mountain at top speeds and still laid back enough to cruise around the city in. I also check frame quality, component harmony, and handling ability. Let's not forget I was price conscious as well. With the bike industry churning out new products every year, finding the right bike can be hard. After months of digging, I landed on two bike brands. A Schwinn High Timber bike and a Mongoose Trail/Mountain Bike. I reveal my findings in this review.
Differences Between Schwinn vs Mongoose-How Do They Compare?
| | | |
| --- | --- | --- |
| | Schwinn High Timber Bike | Mongoose Mountain Bike |
| Frame Material | Steel | Alloy |
| Shipping Weight | 44.3 lbs. | 50.1 lbs. |
| Derailleur | 21-Speed | 21-Speed |
| | | |
 
Schwinn vs Mongoose- In Depth Comparison
Assembly Quality
Straight off the bat, the Schwinn High Timber bike has an impressive build quality. This bike features a steel frame which is more durable compared to aluminum and carbon. Steel is rust and damage resistant which means I can get more riding done on this bike.
Mongoose trail bike features an alloy frame with full suspension. The frame feels light and nimble to handle. With time, some component and frame issues begin to suffice. For this reason, I found the Schwinn High Timber to have better assembly quality.
Drivetrain
Both bikes feature a 21-speed Shimano derailleur. I would commend Mongoose for using a premium drivetrain on a budget entry level bike. Shifting gear is a no brainer and the ride is smooth for short distances. Some drivetrain issues start when riding long distances.
Schwinn High Timber boast of a Shimano derailleur with SRAM shifters. This combo is ideal for the rider who wants to experience the bike's full potential. Whether you are on gravel or tarmac, the bike handles quite well. The drivetrain's high quality design also makes it durable and worthy for long hauls.
Wheels
Most mountain bikes that get shipped to my doorstep usually have poor quality wheels. I have to congratulate Schwinn for having quality tires on all their products. I did not have to replace the wheels.
The story is different for the Mongoose. The wheels lost their quality after repeated riding through parks. Replacing them was no issue given that it is a budget entry bike.
Mongoose Review


A Mongoose bike is a great choice if you are looking for an entry level bike. It features an alloy frame to make it lighter for great handling. This bike comes with a riser handlebar which allow for an upright riding position. Enjoy cruising in your Mongoose bike and never complain about back problems.
The frame has a unique design as well. It is a step-through frame with the crossbar curving where it joins the seat-tube. The selling point for this bike is the full-suspension feature that comes with the frame. It makes riding through bumpy terrains enjoyable as the suspension absorbs the shock.
Mongoose trail and mountain bike also comes with a Shimano drive-train. Shimano is a company that designs quality bike components for high performance bikes. To have this feature on an entry level bike is a win for the rider.
Pros
Full suspension frame
Quality Shimano derailleur
Comfortable riding position
Cons
Cannot handle long distances or rough terrains
Faulty components
 
Schwinn review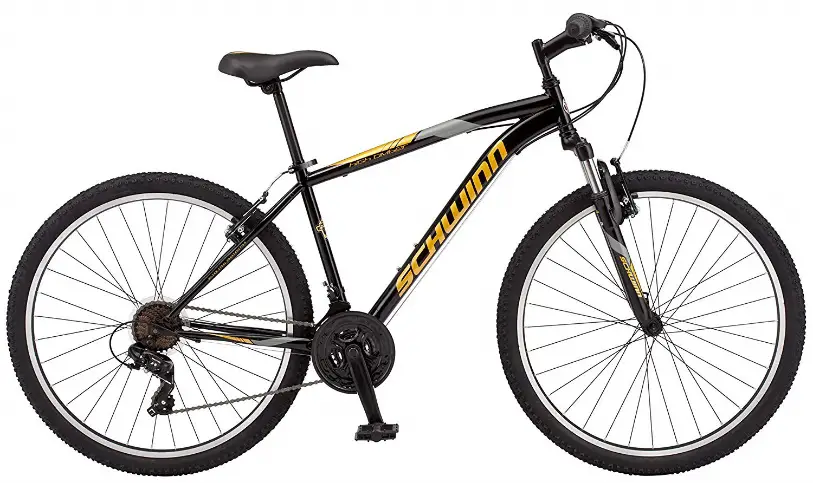 Schwinn is a company that always aims for quality in their products. This Schwinn High Timber bike boasts of a high-grade steel frame. The frame is tough enough to withstand brutal terrains or biking escapades. You will appreciate quality frame assembly and durable alloy components.
This bike also features a step-through frame design. The crossbar curves around the head tube making it different with the Mongoose bike. The riser handlebar keeps your back upright as you ride. The linear pull brakes are reliable when you want to slow down or stop completely.
One other thing to appreciate about this bike is the quality wheels it comes it. It features 26 inch tires designed for high performance. The tire thickness also protects the inner tubing from damage. Compared to the Mongoose bike, this Schwinn bike has a better performing drivetrain. It handles long-distance rides quite well and is also recommended for rough terrains.
Pros
Quality steel frame
Versatile in application
Ideal for long-distance riding
Cons
 
Conclusion
I love both the Schwinn High Timber and Mongoose trail bikes. The Mongoose boasts of premium features at a budget price. It has a lighter frame that is great to handle especially when cruising around town. The only issue is that some components get faulty as you use the bike.
The Schwinn High timber bike reeks of quality straight out the box. The steel durable frame is feels light and great to handle. The win for me here was the quality assembly and top-notch components. I really pushed the limits of the Schwinn and it handled all the pressure gracefully. So the winner in this Schwinn vs Mongoose review is definitely the Schwinn High Timber.
FAQ
What bike should I buy if I am heavy?
A bike with a stronger frame accommodates any weight. Also install a larger seat for comfort while riding.
Does the bike come fully assembled?
Most bikes are shipped half-assembled to reduce bulk. A toolbox is provided to complete the assembly at home. In some cases, professional help is required for successful assembly.
Which affordable mountain bike is the best?
Consider a mountain bike with a solid frame. Steel or carbon are tough durable frames to go for. Also ensure the bike features quality components for better performance.
What is a good frame size for a mountain bike?
The best frame size for a mountain bike is determined by rider height. The median frame size is 18 inches which suits both short and tall people.