Trail biking is about speed, grit, and endurance. In this Schwinn vs Specialized review, we look at what is more important to you, speed or precision?
I have been riding mountain bikes since I was twenty. Nothing beats the thrill of overcoming gnarly terrains in a high-speed trail bike with all the right features. I find fulfillment in overcoming a new obstacle each time I ride. I soon discovered that the mountain bikes I owned were limiting. They could not handle steep slopes that wind up into unforgiving rocky paths. My mountain bikes took a heavy beating and the frame suffered the most. I wanted a mountain bike that can handle extreme terrains like it is nothing. As I went through several online bike reviews, two trail bikes stood out for me. A Specialized Stumpjumper and a Schwinn Traxion bike.
Schwinn and Specialized Trail Bikes-How do they compare?
| | | |
| --- | --- | --- |
| | Specialized Stumpjumper Bike | Schwinn Traxion Bike |
| Frame | Carbon Fiber | Aluminum |
| Drivetrain | 12-Speed | 24-Speed |
| Wheel Size | 27.5†| 29†|
| | | |
Schwinn vs Specialized- An In-depth Review
I decided to take the Schwinn Traxion and the Specialized Stumpjumper for a test ride. Both bikes impressed me especially in the features they came in.
Material
To be a confident trail biker, you need to have a top-tier bike with a frame you can trust. This speaks to the type of material your trail bike comes in. A lot of modern trail bikes are going for tough and lightweight when choosing bike frames.
Specialized Stumpjumper bike boasts of a carbon fiber frame. Carbon frames are lighter than aluminum frames. A carbon frame is tough in nature and is moldable into any shape. This is why carbon fiber bikes feature the best aerodynamics for trail riding.
Schwinn Traxion bike comes in an aluminum frame. Aluminum is second to Carbon in terms of lightness. Aluminum frame bikes are durable as well and are capable of high speeds. An aluminum frame bike is also a lot cheaper to buy.
Drivetrain
A mountain bike with several gears to its name needs enough room to gallop. Schwinn Traxion bike wins over the Stumpjumper for having the most number of gears. Specialized trail bike comes in with a 12-inch speed drivetrain. With a carbon fiber chassis, the bike feels light and offer nimble performance with every gear engaged.
Whether you are tearing through gnarly obstacles or speeding down a trail path, you will enjoy the performance of this bike.
Schwinn Traxion comes with a whopping 24-speed drivetrain. You have enough room to be adventurous on any rough terrain you choose. A lightweight aluminum frame with a high capacity drivetrain gives this bike an edge over carbon bikes.
Wheel size
In trail biking, wheel size makes all the difference in how your bike handles in harsh terrains. Older mountain bikes came with 26inch tires which were an industry standard back in the day. Modern mountain bikes are embracing bigger wheels in the 27-29inch range.
The Specialized Stumpjumper bike boasts of 27.5-inch large wheels. 27inch wheels have the nimble performance of 26inch wheels. The major advantage is that you will not work as hard as you used to on the 26inch wheels. I enjoyed how the bike picked up momentum and negotiated steep slopes with such ease.
Schwinn Traxion bike features 29-inch wheels. The bikes feel smooth when descending rugged slopes. The tires cushion the shock from bumps and have increased traction for better grip on the road. When I had a 26inch wheel trail bike, I had to stand on the bike whenever I road on bumpy paths. With the 29inch Schwinn bike, bumpy terrains are completely ironed out.
Specialized Stumpjumper review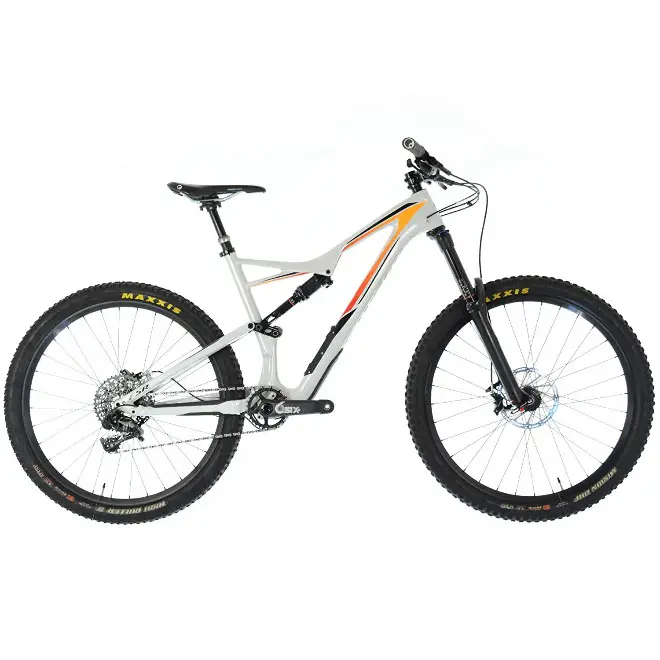 If you are looking for great precision in a mountain bike, I would suggest you get a Specialized Stumpjumper trail bike. Specialized is a bike company reputed for employing precision when crafting their bikes. Their Specialized Stumpjumper bike puts attention on all the features that trail bikers love the most.
Riding in the wilderness requires a sturdy frame and Specialized chose the top-tier carbon fiber frame. The frame is heat-treated and molded to suit the aerodynamic design of a modern mountain bike. This lightweight frame glides over rocky terrains with ease. You can perform stunts without ruining the integrity of the carbon frame.
The Stumpjumper also features front and rear suspension forks. The suspension forks are RockShox Pice RC quality which add to the smooth ride of the bicycle. On the front and rear wheels are SRAM hydraulic disc brakes. This is a high-end braking system that is very reliable when you want to slow down or stop your bike.
Pros
High-quality carbon frame
Front and rear frame suspension
Quality bike components
Cons
Schwinn Traxion bike review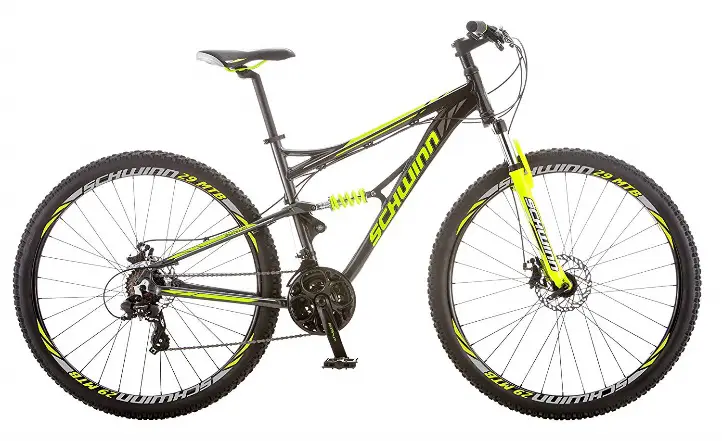 The Schwinn Traxion has enough grit under its hood to compete with high-end mountain bikes. The bike's aluminum frame feels light to handle and withstands all the beating harsh riding can give it. To meet industry standards, this bike also includes front and rear suspension. This allows you to enjoy your bike whether you are on a smooth path or bumpy terrain.
Schwinn Traxion bike comes with a 24-speed drivetrain. On the handlebar are EZ-Fire Shimano shifters to control the cog set. You will love the fluid shifting of gears and the bike's great response to speed. Big 29 inch wheels give you maximum grip on the road. It adds to the nimble performance of the bike which gives you confidence as a mountain biker.
This bike also features front and rear disc brakes. Braking or stopping is easy no matter what speed you are going at. For aesthetics, Schwinn Traxion features a neon-green color which any adrenaline junkie would love.
Pros
Strong and lightweight frame
24-speed drivetrain
Reliable braking system
Cons
Conclusion
I hope this Schwinn vs Specialized mountain bike review was helpful. My choice bike in this review is the Schwinn Traxion bike. It performs just like the top-tier Specialized Stumpjumper and is way affordable. For the serious biker who wants a bike that will last for years, the Specialized bike is more ideal.
FAQ
Is there a big difference between Schwinn and Specialized bikes?
If the two bikes are in the same price change, there will be minor differences between them. The more top-tier features a bike has, the more expensive it will be.
Specialized or Schwinn hybrid bike, which is better?
Schwinn makes great hybrid bikes for the pocket-conscious consumer. For anyone looking for expensive hybrid bikes built for advanced riding, Specialized is the brand to consider.
Schwinn Mesa or a Specialized Hotrock, which do I buy?
Specialized Hotrock is an older bike model compared to Schwinn's current Mesa. Both bikes have similar components. Some component upgrade on the Hotrock could boost its performance.
What are the frame differences between Schwinn and Specialized bikes?
Both bike brands battle for the lightest frame on their products. While Specialized goes for a premium A1 aluminum frame, Schwinn counters with an N Litened aluminum frame. It boils down to how much you are willing to spend on a light frame.