Would you settle for a standard mountain bike or spend thrice as much to get something more professional? In this Schwinn vs Trek, I compare two premium bikes that face each other on the rough terrains.
I find the city quite busy so I love to ride out of town. My biggest problem with off-road riding was the constant bicycle repairs I had to make after. The mountain bike I owned developed a wobbly frame after several riding sessions. The seat was also uncomfortable and I suffered back pains because of that. I decided to upgrade to something that has the features for rough riding. Cheap bikes were never a solution so I had to save up for something better. I bought the Schwinn Frontier and I solved all my riding problems. I recently saw the Roscoe 8 bike by Trek and I am seriously considering upgrading to that.
Difference between Schwinn and Trek mountain bikes – how do they compare?
| | | |
| --- | --- | --- |
| | Schwinn Frontier | Trek Roscoe 8 |
| Frame | Steel | Aluminum |
| Suspension | Yes | Yes |
| Wheel Size | 26 inches | 27 inches |
| | | |
Schwinn vs Trek – A Detailed Comparison
Frame
One of the features I was looking for was a strong frame that can take a beating. The Schwinn Frontier delivers this in an MTB steel frame. Steel frames are strong and comfortable to handle. I have ridden the Schwinn in all kinds of terrains and it held strong to its grit.
What attracted me to the Trek Roscoe 8 is the Alpha Gold quality aluminum frame. Aluminum is lighter than steel and nimbler in handling. If I am to take a serious riding conquest up a mountain, I am likely to go with the Trek Roscoe 8. Less weight means more speed and handling power.
Wheel Size
You need big bike wheels to steer through rough terrains with full control of your bike. My previous mountain bike had 26-inch wheels which are the industry standard for off-road bikes. The Schwinn Frontier comes in the same wheel size. The difference is that these are Schwinn's 26 x 1.2 inches tires which have great tenacity on rough roads. Even in sharp corners, the tires handle well with little chances of skidding.
The Trek Roscoe 8 beat Schwinn to it by investing in 27-inch wheels. 27-inch wheels have a better grip, improved speed, and control, as well as stability on rough roads. I also noticed that the Roscoe 8 27inch wheels have great rollover angle.
Frame Suspension
I suffered pain in my back and arms because I lacked fork suspension to absorb the shock of bumpy rides. The Schwinn Frontier comes with Zoom HL565 fork suspensions that boast of 60mm travel. This one feature improved my riding experience as I never complained of pain again. The saddle is a Schwinn Trail MTB which improves riding comfort.
The Roscoe 8 by Schwinn also boasts of a front suspension fork. The suspension is RockShox Judy Silver which are high-quality forks in mountain bike construction. What also makes the Roscoe 8 suspension forks special is the turnkey hydraulic lockout. When your front wheel hits a big rock, the hydraulic lockout takes the bullet for you. You appreciate how much control you have of your bike no matter what terrain you are riding in.
Schwinn vs Trek – A Comparison Overview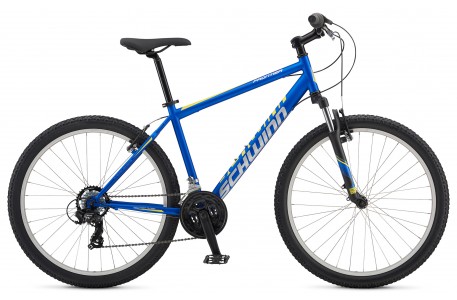 I have had my Schwinn Frontier for 5 years now and I still love how it handles. The steel frame remains strong as I continue to explore tougher terrains. The front suspension fork takes impact shock allowing me to focus on steering the bike. My previous mountain bike kept toppling over whenever we hit a pothole or stone. I have the bruises to show.
The Schwinn Frontier bike also comes with a 7-speed drivetrain. The handlebar boasts of Shimano Revo shifters which you twist to change gear. The padded saddle feels comfortable to sit because it absorbs most of the shock from riding as well.
One other thing to appreciate in the Schwinn Frontier is the quality components. This bike features an MTB alloy stem and seat post. The handlebar is MTB steel as well with a 40mm rise. Handlebar grips are Schwinn MTB grips which give you steady control of the bike even at top speeds.
Pros
Tough and durable frame
Front suspension for stability
Padded seat for comfort
Cons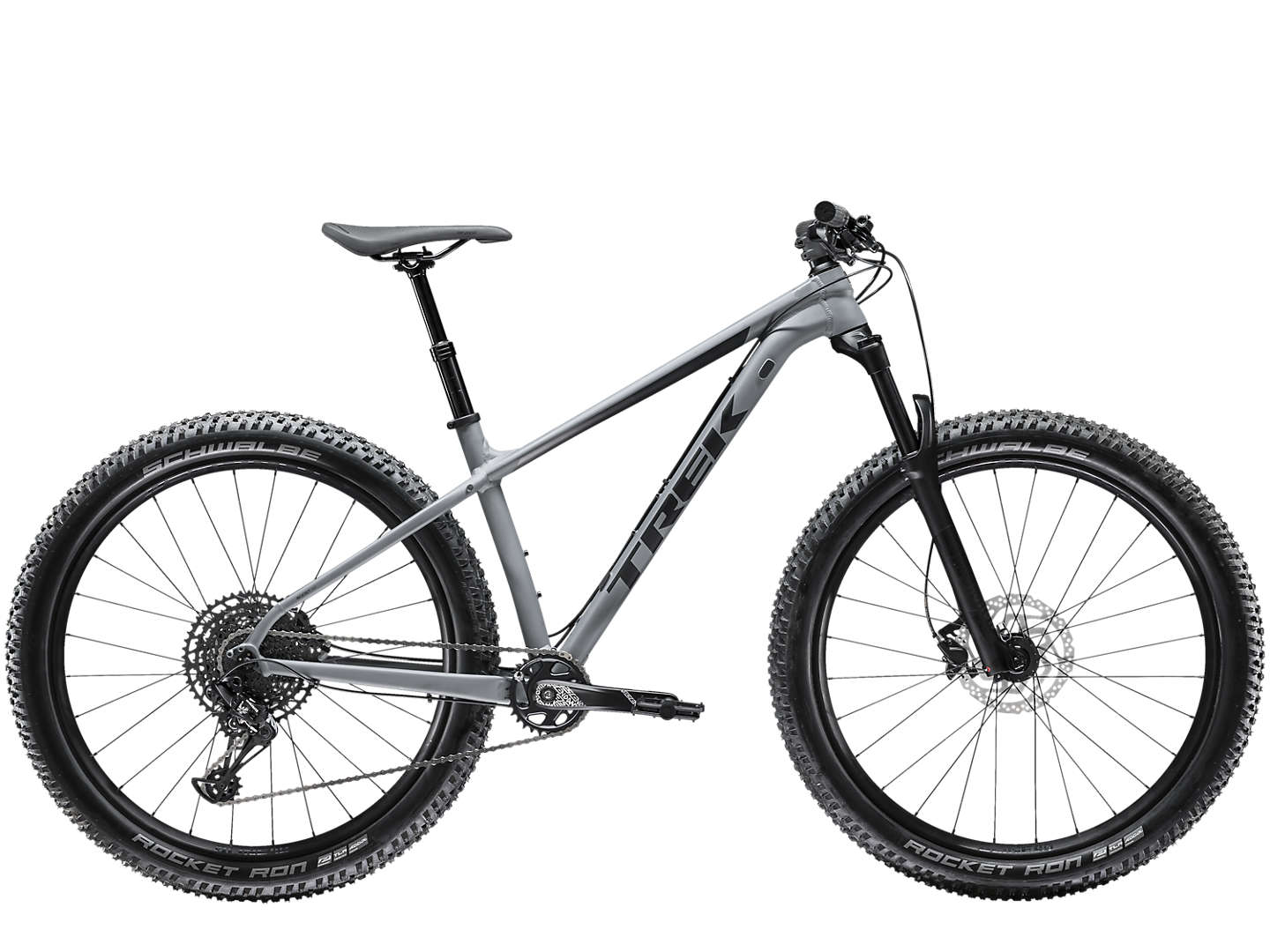 A Trek Roscoe 8 bike is what you go for if you want to take off-road riding to the next level. This bike has a simple aluminum frame design but packs powerful features. If you are looking for a mountain bike that withstands repeated harsh riding, a Roscoe 8 is just for you.
The Alpha Gold aluminum frame pairs with components that boast of Bontrager quality. The handlebar features Bontrager alloy with a 15mm rise. The grips are Bontrager XR trail with nylon lock-on. The rims are Bontrager tubeless ready and feature 27-inch wheels. This bike can also take tubeless 27-inch wheels. The saddle is Bontrager Arvada for comfort as you ride through rugged terrains.
Trek Roscoe 8 comes with Shimano MT200 hydraulic brakes. This gives reliable control of the bike whether you want to slow down or stop completely. The pedals are VP-526 nylon platforms that are tough and durable. This bike also features SRAM NX Eagle rear derailleur and shifters.
Pros
Premium aluminum frame
Tough rims that support tubeless tires
Quality suspension frame for comfort
Cons
Conclusion
As I wind up this Schwinn vs Trek review, I had to answer a vital question. Do I stick to my Schwinn or upgrade to a Trek? My Schwinn Frontier still has nimble performance even after 5 years of riding. The Roscoe 8 packs more science hence tougher when it comes to terrain riding. Though I love my Frontier, I am saving up for the Roscoe 8. It is the benchmark bike for off-road riders who want to challenge themselves daily.
FAQ
What is preload on MTB forks?
Preload is the pressure bicycle forks endure when in an extended position. Suspension technology helps cushion this pressure hence making the bike stable.
What is mountain bike Fork Lockout?
Fork lockout is a switch that makes the forks rigid when turned. Mountain bikers love this feature because it gives more control when riding.
How do Schwinn and Trek bikes compare?
Schwinn bikes tend to be cheaper in offering the same features you find on Trek bikes.
Which bike is better, Schwinn or Trek?
If love off-road riding for the fun of it, a Schwinn bike is ideal. Trek bikes are premium bikes designed for professional riding on rough terrains.