With their trendy and unique designs, easy to use gear systems and specific commitment to the rider's comfort, cruiser bikes are an excellent option for people who enjoy riding around town or keeping up with their kids. This Sixthreezero vs. Firmstrong cruiser bike review explores why you cannot go wrong with a cruiser bike.
Whenever I want to cruise around my neighborhood, my cruiser bike always comes in handy. With its numerous features and different specs, my cruiser bike offers me a smooth and relaxed ride to wherever I need to go. Since I want to upgrade my bicycle, the Sixthreezero and Firmstrong cruiser bikes have caught my attention. Here is why:
What are the differences between the Sixthreezero and Firmstrong cruiser bikes?
| | | |
| --- | --- | --- |
| Model | Sixthreezero EVRYjourney Women's cruiser bike | Firmstrong Urban Lady |
| Frame material | 17.5-inch swooping step-thru aluminum frame | 15-inch durable steel frame |
| Saddle | Brown leather | Over-sized seat with double springs |
| Handlebars and grips | Adjustable alloy handlebars with synthetic leather grips | Chrome plated handlebars with Hi-density foam grips |
| Drivetrain | 1-speed, 3-speed, or 7-speed Shimano gear hub | 1-speed, 3-speed, 7-speed, 21-speed Shimano gears |
| | | |
Sixthreezero vs. Firmstrong- How do they compare to one another?
Frame material
Sixthreezero beach bikes have a 15-inch low swooping step-thru aluminum frame that is lightweight and durable. Its low-swooping nature ensures you maintain the proper riding position and allows comfortable stepping in and out of the bicycle regardless of your attire. The light aluminum frame also has high-quality chrome components which give the bike a vintage appearance.
Firmstrong cruiser bike features a 15-inch step-thru cantilever steel frame which provides the rider with a fast and stable ride. The frame is light, allowing easy portability and comes in a variety of different colors. It is also quite sturdy and durable, giving you the confidence to ride through rough terrains with ease.
Grips
Sixthreezero cruiser bikes have wide and adjustable handlebars made of steel and synthetic leather grips for optimum style and comfort. The leather grips blend well with the saddle resulting in a fresh and trendy look. The grips also alleviate increased tension on your back and hands while cycling.
Firmstrong beach bikes have chrome-plated handlebars with Hi-density foam grips for a cushy and ergonomic grip while steering. The durable handlebar design encourages an upright riding position as they flare up at the grips for practical arm support as you control your bike.
Weight
Sixthreezero cruiser bikes weigh 35lbs when fully assembled and a weight capacity of 300 pounds. If a rider weighs more than the weight limit, you have to install reinforced wheels. Firmstrong cruiser bikes have different weight ranges. The one-speed weighs 35lbs, the three-speed weighs 51lbs, and the seven-speed weighs 40lbs. The different weights vary due to the various components each bike has.
Sixthreezero EVRYjourney Women's cruiser bike vs. Firmstrong Urban Lady – A comparison review
Sixthreezero EVRYjourney Women's cruiser bike Overview and Key features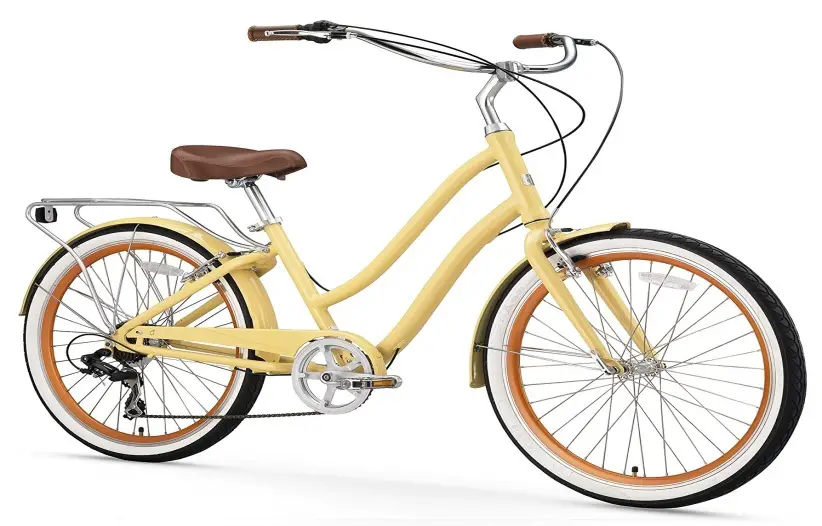 Ride easy and smooth with Sixthreezero EVRYjourney Women's cruiser bike. This versatile bike has a 17-inch step-thru aluminum frame, extra wide and dual-spring saddle seat, and 26-inch Semi-slick whitewall tires for that long ride around town. The bike also has 7-speed internal gear hub with front and rear hand brakes for relaxed upright riding in various terrains.
Its wide balloon tires offer stability and smooth rolling when making those tight corners while its cushy seat and adjustable handlebars ensure maximum comfort and maneuverability. The bike also comes with fenders and rear racks for easy accessorizing or upgrading.
What we like
Lightweight and resilient frame
Comfortable and dual –spring saddle
Comes with fenders and rear racks for easy upgrading of components and extra loading
Easy to maneuver
7-speed drivetrain which is excellent for hilly terrains
What we do not like
Not the cheapest cruiser bike in the market
A bit challenging to assemble
 
Firmstrong Urban Lady Cruiser bike Overview and Key features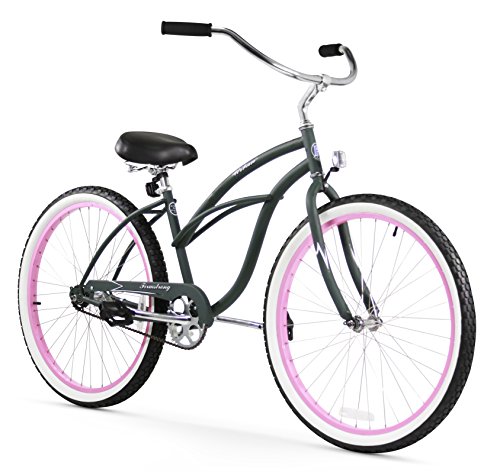 The Urban lady beach cruiser bike is an excellent option for women who want to cruise around in style. This bike offers riders a classy option guaranteed to last for a very long time due to its high-quality components.
Firmstrong's Urban Lady contains a sturdy top quality steel frame with aluminum wheels. Available in a wide array of colors, the frame material is long-lasting and rust-resistant, ensuring low maintenance costs. The bike also features a premium and oversized saddle with double-coiled springs for a smooth ride as it absorbs most road vibrations. Other high-end components of this bike include knobby-textured Kenda whitewall balloon tires for increased grip, long handlebars with soft foam grips and single speed bike brakes.
What we like
Available in different colors
Easy-to-use coaster brakes
Lightweight and durable frame material and ergonomic design
Comfortable handlebars, grips, and saddle seat
Extra wide balloon tires for smooth and cushioned rolling
What we do not like
A light kickstand and weak fenders
A time-consuming and challenging assembling procedure
 
Frequently Asked Questions
Are cruiser bikes good for exercise regimes?
Cycling has many benefits; one of them being it is a good workout. Squeezing in a core workout every time you ride your cruiser bike will benefit you in several ways. Strengthen your core while riding by pedaling while standing up for up to 30 seconds.
What is the difference between a comfort bike and a cruiser bike?
Cruiser bikes have long handlebars, wider wheelbase, and thicker tires, as well as a cushioned seat for maximum stability and comfort on sandy and gravel paths. Comfort bikes have a frame similar to mountain bikes and are like hybrid bikes. They have 26-inch wheels with thick-treaded tires, suspension forks and a wide seat with extra cushioning for versatile performance in various terrains.
Can I ride my cruiser bike on a trail?
Cruiser bikes are for casual riding in urban areas. They are commonly used for short-distance commutes and running of errands. For rough off-trails, mountain bikes are more suitable due to their quality suspension and light nature.