Are you looking for a functional commuting bike that can also battle off-road paths? By reading this Sixthreezero vs. Schwinn review, you will find a suitable hybrid bike to cater to your individual cycling needs.
Before I found out about the versatility of hybrid bikes, I struggled with finding a bike that has visual appeal and holds their integrity to my comfort. Hybrid bikes are the perfect blend of form and function. They allow you to commute comfortably through the city while maintaining a stylish appearance. However, it was tough to find the perfect bike and brand best suited to me. With this Sixthreezero vs. Schwinn review, I hope to make your choice more informed.
The following comparison review provides anin-depth look at what these top tier bike brands have to offer in terms of hybrid bikes.
What are the differences between the Sixthreezero and Schwinn hybrid bikes?
| | | |
| --- | --- | --- |
| Model | Sixthreezero Ride in the Park | Schwinn Wayfarer |
| Frame material | 17†or 20†Step-thru ergonomic aluminum frame | Classic Steel retro city frame |
| Handlebars and grips | Straight handlebars with soft brown synthetic leather grips | Alloy handlebars with vinyl comfort grips |
| Saddle | Brown, synthetic, dual-spring and tapered leather saddle seat | Schwinn Quality padded dual-spring chrome saddle |
| Drivetrain | Shimano 7-speed gear system | Shimano 7-speed rear derailleur with SRAM twist shift shifters |
| | | |
Sixthreezero vs. Schwinn hybrid bikes- How do they compare to one another?
Frame material
A bicycle's frame material determines the bicycle's durability and versatility. Both these bikes consist of high-quality frame materials which differ in specifications.
Sixthreezero hybrid bikes have an ergonomic step-thru aluminum frame with matching full fenders and 700*32c wheels. The low swooping nature of the frame allows easy entry on and off the bicycle, thus its step-thru technology. The bike also has a low pedaling position that allows proper riding posture as well as full leg extension while you are seated on the saddle.
Schwinn hybrid bikes consist of Schwinn Retro city frame for a more relaxed and upright riding posture. Its unique and lightweight frame evenly distributes any additional weight and can handle the daily wear-and-tear of cycling. The frame's design ensures superior bike control, thus easing any increased tension on the rider's body.
Handlebars and grips
Sixthreezero hybrid bikes have straight alloy handlebars with synthetic leather grips which give the bicycle unique visual appeal. The soft synthetic grips are accompanied with classic stitches and offer the rider a firm grip as he controls the bike in various terrains. The handlebar geometry ascertains the rider maintains an upright position without hunching his back.
Schwinn hybrid bikes have theSchwinn retro handlebars with vinyl comfort grips for ease of use and better maneuverability. The handlebars are long and swept back to ensure your neck and shoulders remain straight, reducing pressure on your back.
Accessories and attachment points
Sixthreezero hybrid bikes feature in-built attachment points to add a basket or to store your water bottle as well as a sturdy rear rack and matching fenders. This bike offers easy accessorizing as the rear rack allows additional panniers while the full fenders protect you against adverse elements.
Schwinn hybrid bikes feature the classic Schwinn rear rack and fenders for a comfortable and smooth ride. This bike has both back and front fenders made from a special metal mixture. The fenders are chrome-plated to ensure durability and top quality performance.
Sixthreezero vs. Schwinn hybrid bikes A comparison review
Sixthreezero Ride in the Park Overview and Key features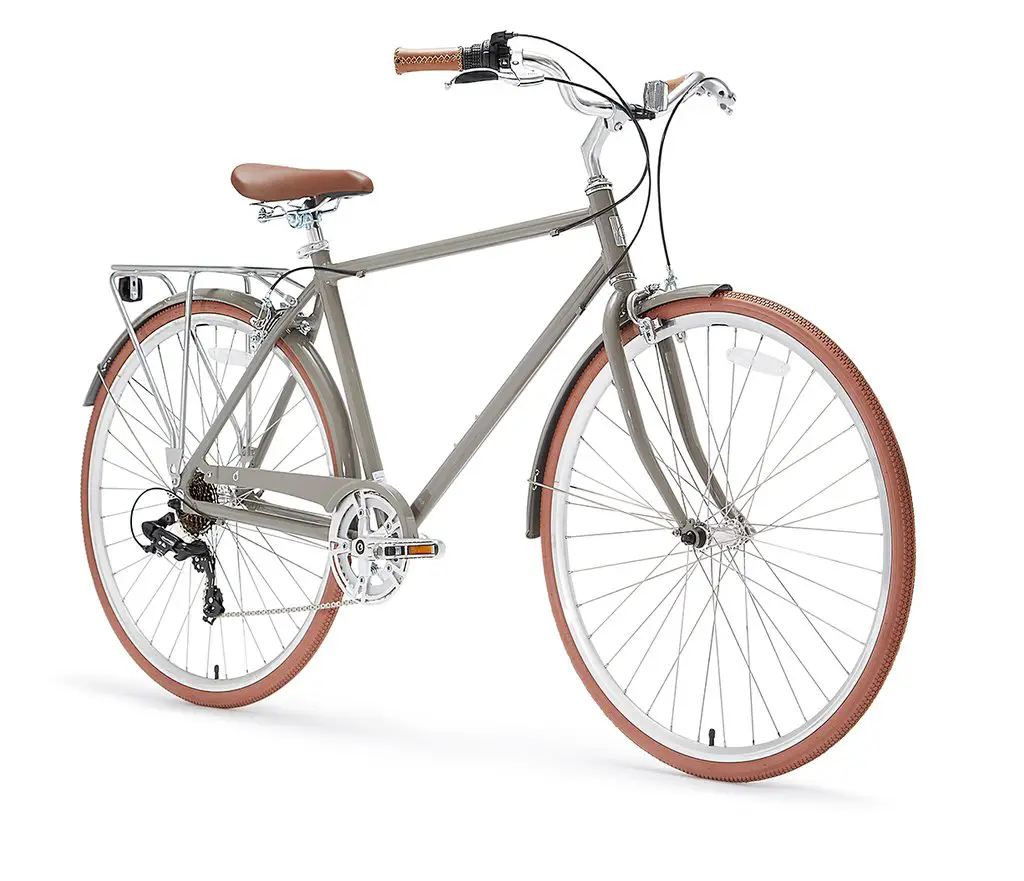 The Sixthreezero Ride in the Park hybrid bike is a versatile bicycle made for everyday riding activities. It has the classic city cruiser frame with Shimano 7-speed external derailleur for increased traction and smooth climbing and cruising. The bike also has front and rear handbrakes for sufficient stopping power.
From its swept-back handlebars for a more upright riding position to its 700*32c tires with double-walled rims, this bike has the rider's comfort and ease of use in mind. This bike has a maximum weight capacity of 300lbs and is suitable for riders with a height between 5ft tall to 6ft 2†tall.
What we like
Lightweight and durable aluminum frame
Front and rear handbrakes for easy all-weather stopping control
Rear rack for easy customization
Shimano 7-speed external derailleur for smooth rolling rides in diverse terrains
Matching leather saddle and grips for a stylish appearance
What we do not like
Quite bulky as it needs additional space for storage
 
Schwinn Wayfarer Hybrid bike Overview and Key features


The Schwinn Wayfarer is genuinely a one-of-a-kind bicycle. Its high-end components offer riders an exceptional blend of presentation and functionality. From its classic steel retro-city frame and fork to its 26-inch wheels and 700c tires, this bike ensures you have an enjoyable riding experience along paved terrains.
The Wayfarer features Shimano 7-speed rear derailleur with SRAM twist shifters for rapid gear shifting as you ride. The bike also folds up easily, making it portable and easy to store.
What we like
Foldable bicycle
Strong and lightweight steel frame
Alloy rear and front linear-pull brakes for all-weather stopping power
Robust alloy rims
Rear carrier for convenience and easy accessorizing
What we do not like
Frail fenders made from weighty metal
Non-adjustable saddle seat
 
Frequently Asked Questions
Do hybrid bikes have quick release front tires?
Most hybrid bikes come with a quick release front tire. This feature makes it easier to fix a flat tire, fit a bicycle in a car for portability purposes and also for security reasons.
Do you need suspension on hybrid bikes?
Hybrid bikes are mostly commuter bikes for use on gravel and paved roads as well as the occasional rough off-road path. Any bicycle can ride on gravel with fat tires and no suspension. The bike has to have a sturdy frame though for controlled steering control while riding.
What is the maximum weight of hybrid bikes?
High-quality hybrid bikes have a maximum weight limit of 300lbs. With the use of newly reinforced wheels, some bikes can extend this weight capacity to 350-400lbs.