If you are looking for a cruiser bike with the perfect combination of comfort, elegance, and performance, Sixthreezero and Townie cruiser bikes are your best buy. Notoriously known for their versatility and iconic and sleek appearance, these leading beach bike brands offer casual riders a worthy investment. With that said, let us quickly delve into this Sixthreezero vs. Townie review.
Whether you are novice or an experienced rider, your cycling skills are just as good as the bicycle you ride. It is crucial to shop around and find a bike which specifically caters to your needs. Luckily, after a thorough search, I have managed to write this comprehensive Sixthreezero vs. Townie cruiser bike review to provide casual riders with in-depth information on which beach bike brand produces the coolest cruiser bike.
What are the differences between Sixthreezero and Townie cruiser bikes?
| | | |
| --- | --- | --- |
| Model | Sixthreezero cruiser bike | Townie cruiser bike |
| Frame | Lightweight aluminum weight with Flat Foot frame design | Lightweight and rust-resistant 6061 aluminum alloy frame with Flat Foot frame design |
| Saddle | Extra wide and foamy saddle | Wide and ergonomic saddle with shock-absorbing Elastomers |
| Handlebars and grips | Black synthetic leather grip | Alloy handlebars with Electra hand-stitched grips |
| Drivetrain | 3-speed/7-speed/21-speed | 7-speed |
| | | |
Sixthreezero vs. Townie Cruiser Bikes- How do they compare to one another?
Grip
Sixthreezero cruiser bikes feature soft and easy-to-handle handlebars and grips, ideal for reliable steering and braking control. Their leather grips also give the bike a unique sense of style and comfort, thus its cool and trendy appearance.
Townie cruiser bikes have alloy custom bend handlebars with Electra hand-stitched grips. Their stylish and comfortable hand-stitched grips bring about the bike's durability and versatile performance. The custom bend handlebars also allow easy maneuverability and can fit every rider's preference.
Brakes and tires
Cruiser bikes from Sixthreezero feature cushioned 26 balloon tires with front and rear coaster hand brakes for the optimum riding experience. The bike's balloon tires allow the bike to roll over various terrains while absorbing most road vibrations smoothly. They also provide increased traction on wet terrains as well as a speedy performance on pavements.
Electra's Townie cruiser bike features Semi-slick Street 26*2.0†tires and front and rear linear pull brakes. This bike has alloy reach adjustable brake levers which allow easy use and access to the braking system. The front wheel is completely detachable for more effortless mobility, security, and repairs.
Accessories
Sixthreezero cruiser bikes pride themselves on being fully customizable. From baskets to baby seats to fender and rack mounts, you can carry just about anything on these bikes. Their snap-on attachment points and customizable kits allow the rider to customize the bike to their heart's content.
Townie cruiser bikes come with front and rear LED lights for improved visibility when it rains and at night. The bike also has painted fenders to protect the rider from dirt and mud when riding through rough terrain. It also contains mudguard and rack mounts for easy accessorizing. At additional costs, you may get a customized helmet, ringer bell, ergonomic socks, and linear cup holder, all from Electra.
Sixthreezero EVRYjourney vs. Electra's Townie cruiser bike- A comparison review
Sixthreezero EVRYjourney Overview and Key features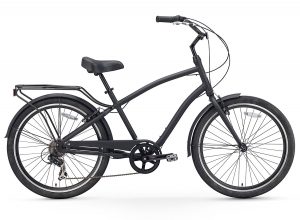 When it comes to a bike that is excellent for commuting to work, cruising around town or getting around campus, the Sixthreezero EVRYjourney delivers both you and your belongings smoothly and comfortably to where you need to go. Its classic 19†aluminum frame with innovative step-thru design allows a rider to get on and off the bicycle quickly. Its ergonomic frame ensures the cyclist maintains a foot-forward seat and pedal position which is suitable for riders of varying heights and prevents alleviated back tension.
Apart from its unique and sturdy frame construction, the bike also features an extra-wide and shock absorbing seat that conforms to the rider's shape. It also has cushy and thick 26*2.0†tires, Shimano 7-speed gears, and durable front and rear linear-pull brakes to give you an unforgettable riding experience.
What we like
Modern design and iconic appearance
Cushy and adjustable saddle
Balloon tires for increased traction in diverse terrains
Easy to maneuver due to its lightweight
Full fenders to protect you from the elements
What we do not like
Challenging to assemble as it comes with vague instructions
300 pounds weight limit
 
Electra's townie cruiser bike Overview and Key features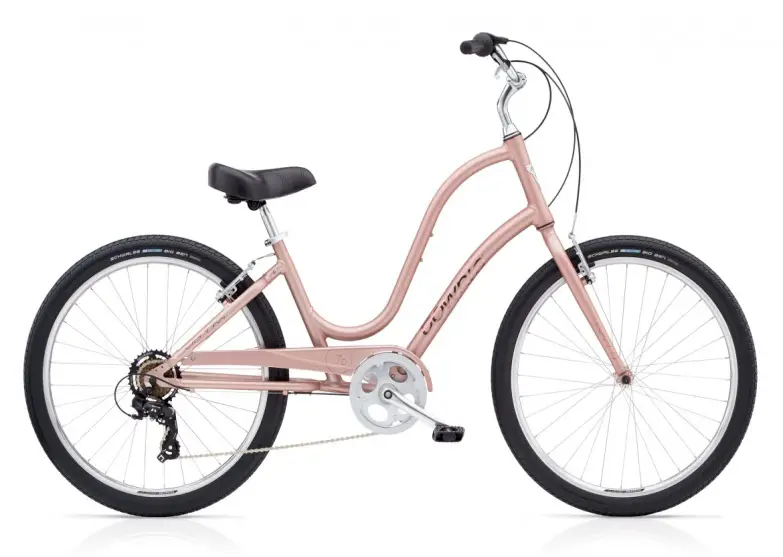 Electra's townie cruiser bike is the perfect riding companion while you run your errands in town. With its high-quality 6061 aluminum frame and pedal forward riding position, it allows you to cruise around in a comfortable and laid-back position. Its wide 26†tires, Electra double-wall alloy rims, and Shimano 7-speed derailleur shield the rider from road vibrations, making it a pleasure to ride in urban areas and for recreational purposes.
What we like
Available in multiple colors
Durable and lightweight frame construction with Flat Foot design
Internal cable routing
Made of high-quality and rust-resistant alloy metal
Comfortable and ergonomic saddle
What we do not like
Difficult to store due to its bulky nature
Not easy to go uphill
 
Frequently Asked Questions
What is the difference between a cruiser bike and a hybrid bike?
Cruiser bikes have wide balloon tires and long and stretched back handlebars as well as the traditional coaster brakes. They are most useful on fairly flat terrain such as those in urban towns.
Hybrid bikes have medium-width tires and front suspension. They are best for short-distance commuting as well as paved and unpaved roads.
Are cruiser bikes fast?
The average speed of a cruiser bike is 3-15 miles per hour. These bikes are for leisure riding. If you pedal hard enough, you may reach its top speed of 15 miles per hour.
Are cruiser bikes heavy?
Most cruiser bikes have steel or aluminum frame material which is durable and quite heavy. Their sturdy frame construction, wide balloon tires, long handlebars, and extra-wide saddle contribute to their overall shipping weight of 41lbs. Their unique and iconic design makes them stylish and quite easy to maintain, thus its long-lasting nature.