Specialized bikes have dominated the biking arena significantly in such a short amount of time. These bikes have managed to leave riders in awe with every bike unveiling. We give you a closer look in this detailed Specialized alibi vs Sirrus review.
I am the kind of person who never passes the chance to ride on bike. But the moment I see a flat tire, a cranky chain that needs oiling or a bike that clearly needs a paint job, I swiftly turn round and scamper away. I do not like the maintenance responsibilities that come with bikes.
This is why when time came for me to look for a new bike I went scouting for a bike that had the least amount of demands. A bike that wouldn't surprise me and cut short my experience.
I narrowed it down to two bikes, on enquiring, I realized that I am not the only one who is out to find a trouble free bike. So because I know that grimy chains and dusty tires are a pet peeve to many, here's an intricate Specialized alibi vs Sirrus review.
What are the main variances between the Specialized alibi and Sirrus bikes?
| | | |
| --- | --- | --- |
| Model | Specialized alibi | Specialized Sirrus |
| Frame material | Aluminum | Aluminum |
| Brakes | Linear pull brakes | Disc brakes |
| Gear | 7 speed | 18 speed |
| | | |
Specialized alibi vs Sirrus- How do these two compare?
Frame material
Beyond the frame shape or design is the all-important question of what material it is made of. This is what tells you how durable the bike is and whether or not it can handle minor bumps or accidents bound to come with cycling. Both Specialized alibi and Specialized Sirrus bikes come with aluminum frames. This tells you that the bike is light enough and strong enough to handle any physical challenges.
Brakes
This bike has a fitness geometry aimed at encouraging the best positioning and riding practices. Hybrid bikes are capable of achieving incredibly high speeds which explains why they need good brakes. The Specialized alibi bike comes with linear pull brakes designed to tightly grip the wheel in order to stop or slow down the bike. The Specialized Sirrus bike is alternatively fitted with disc brakes famous for their enhanced performance during harsh weather and road conditions.
Gear
You may wonder why bikes have gears and why so many at that; Well, gears help keep you and the bike comfortable when riding at certain speeds or when riding up and down the hillsides. On a hybrid bike, more gears don't necessarily mean the bike is better than a bike with fewer gears. This only means that you have more gears to choose from to accommodate your riding. The Specialized alibi bike comes with a 7-speed gear while the Specialized Sirrus bike comes with an 18-speed gear.
Specialized alibi vs Sirrus, a quick review
Specialized alibi review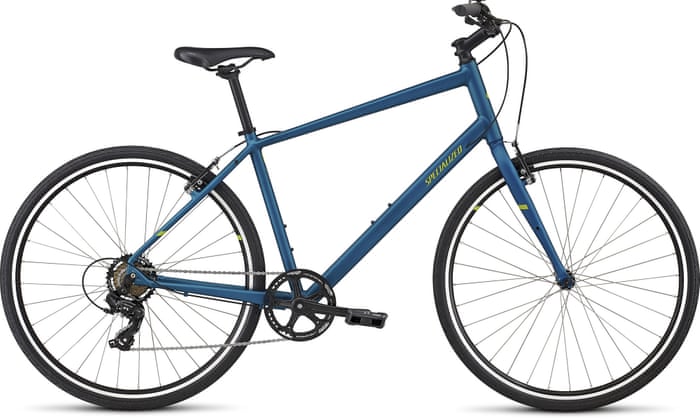 Specialized bike manufacturing company has realized how hard it is for some of us to maintain bikes. They have managed to seal that loophole by inventing a bike which I must say is the most low maintenance bike I have ever come across. With a specialized alibi bike, you can forget about ever having to deal with flat tires. This bikes tires are specially designed to resemble the solid type of tires you see on kids bikes. They are made out of foam rubber, rendering them more stable and durable.
This bike has a fitness-friendly design that makes it that much harder for you to ride in order to get you quickly in shape.
Pros
Durable puncture proof tires
Strong aluminum frame
Con
The tires have less traction compared to tires on other bikes in the same category. This may limit the bike's ability to maneuver well on unpaved trails.
 
Specialized Sirrus review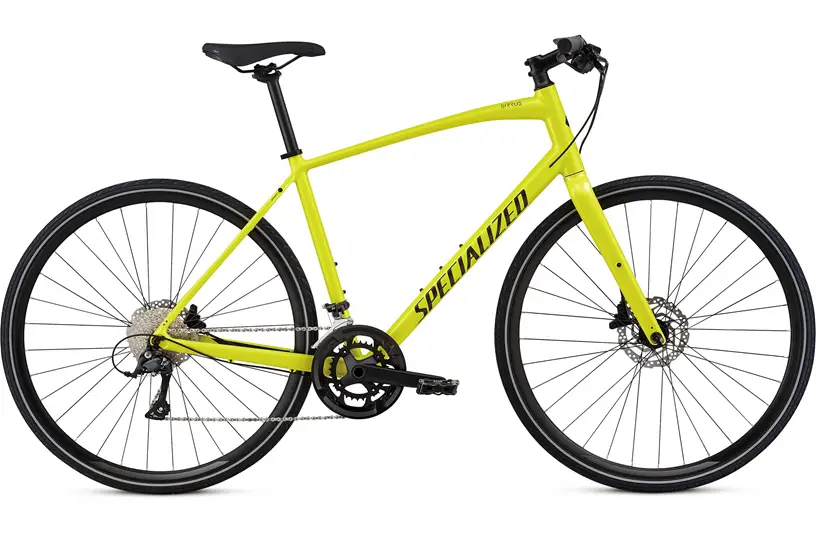 Here the focus is on making this bike the strongest in the pack. More than once I have heard riders label this bike bomb proof. One good look at the Specialized Sirrus and you will understand why. From its premium aluminum frame, high-quality disc brakes and a powerful Shimano 18 speed gear, it is clearly true. Riding this bike, I could tell that despite having quality parts comfort and performance were not compromised. It comes with well-shaped grips and a wide saddle for optimum comfort and a fitness geometry that gets you the type of intensive workout you are after.
Pros
Ergonomic geometry for improved performance
High-quality parts and components for enhanced durability
Con
Every time I hit a bump or when riding on an unpaved road, I heard a noise caused by rattling cables inside the bike which was a tad bit discomforting.
 
Conclusion
It's a welcome gift to know that I can own a bike that will need minimal maintenance. This is why the Specialized alibi is a bike after my own heart. But in regard to high performance, durability and quality components, I must say that the Specialized Sirrus surely does it for me. I hope this Specialized alibi vs Sirrus review was able to shed more light and influence you to make the best choice once you are ready to purchase your own bike.
Frequently Asked Questions
How much does a Specialized alibi bike cost?
Different outlets have different prices for their bikes. If you are working on a budget, a great idea would be to find a much cheaper used bike that is still in good condition. Once you become better you can consider buying a new specialized alibi bike.
Is the Specialized Sirrus bike any good on a rough road?
The Specialized Sirrus is a hybrid bike ideal to ride on both paved and unpaved roads. However, this bike's tires are narrow and do not have adequate traction for you to confidently ride on off-road trails.
Specialized Sirrus vs Giant escape, which one is better?
Numerous riders have praised the Specialized Sirrus bikes for their enhanced comfort and sturdy frames. The Giant escape bikes haven't been left behind either, these bikes are known to give riders incredible value for money preferred you get the right fit.
How heavy is the specialized alibi bike?
The specialized alibi bike is a hybrid bike weighs a paltry 12.42 kgs. Lighter bikes are better because the rider is able to easily accelerate without the bike's weight pulling him or her down.
What is so unique about the Specialized alibi womens hybrid bikes?
A favorite among women riders across all ages is the Specialized alibi women's hybrid bike. This because it bears the convenient step-through frame design and the patented flat foot technology. Whether doing short distance errands or long distance trips, Riding has never been as easy as it is with this bike.