Trek Bicycle Corporation and Specialized Bicycle Components Inc. are two of the world's top bicycle and cycling accessory manufacturers. This Trek vs. Specialized Hybrid models review helps you make an informed purchase decision.
I am a cycling enthusiast who knows the importance of exercise and keeping fit. I need a multipurpose bike which I can use for my regular riding as well as for exercise, to compliment running exercises. I prefer cycling to running because I am able to cycle longer and faster than I can run.
Hybrid bicycles combine features from specialized types such as road bikes, mountain bikes and touring bikes. They are hardy enough to withstand rough terrains of mountain riding and light enough to provide the speed required for effective exercise.
What are the differences between Trek and Specialized Hybrid? How do they compare?
| | | |
| --- | --- | --- |
| Model | Trek Hybrid FX 7.3 | Specialized Hybrid Sirrus Sport |
| Frame | Trek FX Alpha Gold Aluminium | Specialized A1 Premium aluminum |
| Brakes | Tektro linear-pull | Shimano M315 hydraulic disc |
| Handlebars | Bontrager SSR Riser | Specialized, aluminum |
| Seatpost | Bontrager Nebula | Aluminum |
| | | |
Trek vs. Specialized Hybrid – A Detailed Comparison
Suspension Fork
The Trek Hybrid's fork is made of steel. Although more and more bicycle manufacturers prefer to stay away from steel, it is known to be a durable metal. These forks usually last through the lifetime of the bike. It is however, a fairly heavy metal which increases the overall weight of the bicycle.
The Specialized Hybrid fork is made of aluminum. This is a light metal which helps to keep the overall weight of the bicycle low. The downside is that aluminum forks are far less durable than steel ones and require replacement several times within the life of the bicycle.
Saddle
The saddle is one of the most important aspects of any bicycle. The comfort and ease of riding largely depends on the comfort of the saddle. The Trek Hybrid FFX 7.3 has a bontrager H1 saddle. This company's saddle is quite uncomfortable. Uncomfortable enough to leave you with pain in the groin area after a long ride. It also breaks off easily.
The Specialize Sirrus bike is fitted with a saddle made by the same company that is the specialized canopy sport saddle. This saddle utilizes a patented body geometry design shaped to ensure continuous blood flow in sensitive arteries. It is light in weight with supportive PU foam. Heavy-level 4 padding aims to ensure even long commutes are comfortable.
Handlebars
The Trek product comes with Bontrager Satellite Plus IsoZone handlebars. These are considered a superior combination of handlebars and grips. They are exceptionally comfortable because their in-built IsoZone elastomer inserts help to reduce pressure. Inserts also reduce vibrations and absorb impact.
Specialized Hybrid Sirrus Sport comes with flat aluminum handlebars made by the same company. Aluminum is preferred because of its light weight and the fact that it is relatively inexpensive, compared to carbon or steel.
Trek Review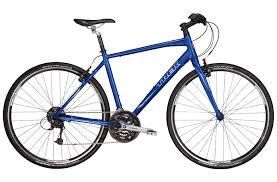 This is a popular option whether you are dashing off to work, keeping fit or off for a weekend of fun. A nylon platform helps to give you an easy pedaling experience. A light alpha-aluminum frame is responsible for easy handling which is useful for both on and off-road riding.
You can pick up speed quickly and with minimal effort because of its 700c wheels. Puncture-resistant, multi-surface tires give you the confidence to ride just about anywhere without worrying about excessive wear and tear.
The bike is fitted with Shimano Tourney derailleurs on both front and back. This enables comfortable shifting through all 27 gear combinations. It also boasts of strong and solid break arms. Considering the crucial importance of an efficient braking system, this makes the bicycle safe and comfortable.
Pros
Lightweight
Upright handle bars
Durable wheels
Cons
Uncomfortable seat
Unsatisfactory weather durability
Slow brake response
Specialized Hybrid Review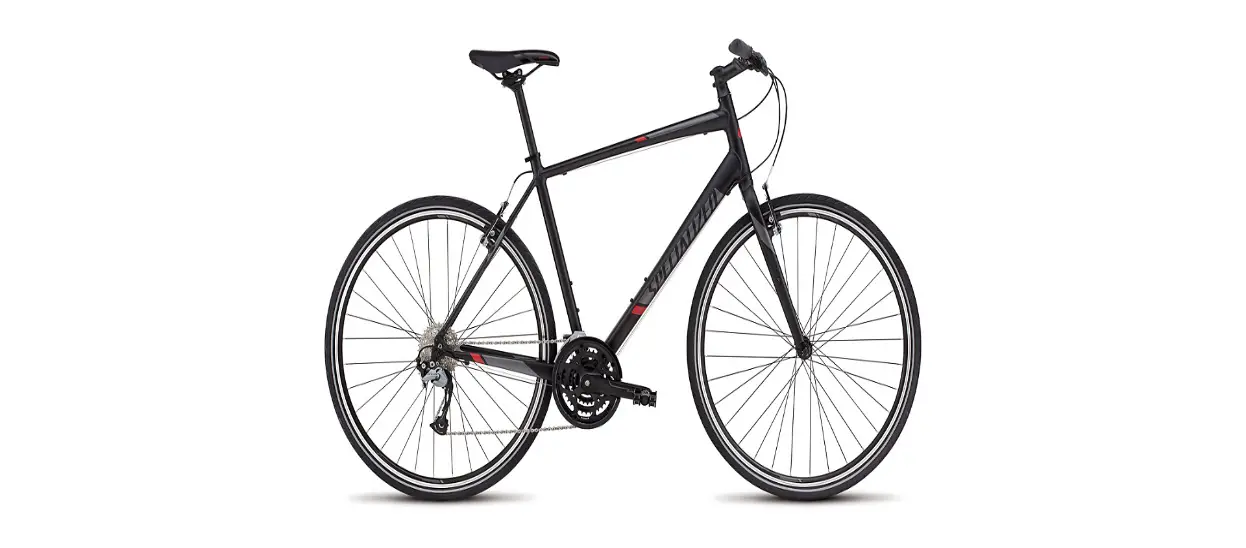 This is Specialized Bicycle Components Inc.'s hybrid model with a sporty feel. It is part of a range characterized by aluminum frames and flat handle bars. Such handle bars increase responsiveness which is a valuable advantage for city riders. Tektro hydraulic disk brakes handle the braking system.
The tall stem allows the user to ride in an upright position for increased comfort and is less likely to cause back pain. This position is also recommended for new riders who are just learning the sport.
Pros
Comes fitted with Shimano Acera shifters and derailleurs
Light -weight frames
Cons
Hard and uncomfortable bars and grips
Poor ability to gain and maintain speed
Bottom Line
Considering that the two are hybrid bikes, it is clear that Trek has made more effort to take care of the exercise biker, commuter and the off-road rider.
In today's market, consumers are demanding more value for money. This Trek vs. Specialized Hybrid comparison makes it clear that additional costs for repair and replacement of parts of Specialized's product definitely work against it. These small but numerous costs make it more expensive to maintain. Trek's product also offers more when it comes to comfort for the rider and riding speed. Despite Trek Bicycle Corporation's years of experience in the industry, the Trek carries the day.
FAQ
Is a hybrid bike recommended for long distance rides?
Long distance riding is always easier on a road bike. That said, if you are reasonably fit, a hybrid bike will serve just as well for an average daily distance of 50 miles (80 km) or so.
Are hybrid bikes good for commuting?
Hybrid bikes come with relatively large, well-padded saddles. Flat handlebars put you in an upright position which is more comfortable than with drop bars. These bikes are ideal for commuting or recreational riding.
How do I know a bike is the right size for me?
Your inseam is the most important measure. Bike charts take the stand-over height. This measure is a combination of your inseam and an additional 1-2 inches which are required to provide sufficient clearance.
Is it true that Trek bikes are made in China?
Yes. Trek as well as many other bicycle manufacturing companies based in America prefer to assemble their products outside of the US. This helps reduce costs, which enables them compete globally.
Can a Hybrid bike be used off road?
Yes, though it is important to keep off very rough tracks. Stay on gravel tracks or canal towpaths.
What makes city bikes different from mountain bikes?
The two main differentiating features are tires and brakes. Mountain bikes have wider tires with very strong grip. Mountain bikes come with hydraulic brakes (which are more efficient than mechanical ones) because mountain riders like speed down steep trails.