It was not long ago when cycle travelers were stuck with the custom-built bike for pedaling for long distances. Luckily, with top performance touring bikes such as the Trek 520 and Fuji touring bikes, cyclists now fully enjoy exploring the beauty of nature. This Trek 520 vs. Fuji touring bike review will reveal which is the better touring bike.
As a lover of the road, there is nothing that beats the thrill and adventure of seeing the world from the saddle of my touring bike. Bicycle touring allows me to interact with people from all over the world while exposing me to new experiences. If you are looking to venturing into touring bikes, consider purchasing the Trek 520 or the Fuji touring bikes.
The following Trek 520 vs. Fuji touring bikes comparison review provides an in-depth look at the specifications of these two popular bikes.
What are the differences between the Trek 520 and the Fuji touring bikes
| | | |
| --- | --- | --- |
| Model | Trek 520 | Fuji touring |
| Frame material | TIG-welded butted Chromoly steel | Reynolds 520 double butted Chromoly steel |
| Handlebars and grip | Bontrager Comp VR-C handlebars with Bontrager Tape Grip | Aluminum drop bar |
| Saddle | Bontrager Evoke 1.5 | Oval concept saddle with steel rails |
| | | |
Trek 520 vs. Fuji touring bike – How do they compare to one another?
Tires
Bicycle tires are the only things that stand between your bike and the ground. Though both bikes have high-quality tires, they differ in the specifications.
The Trek 520 touring bike has Bontrager Hard-Case 700*50c tires, but can also fit the 700*54c tires. Its wheels are highly durable and puncture resistant as they carry the load on different trails. The wideness of its wheels cushions you from bumps while maintaining adequate speed, providing you with a smooth ride.
The Fuji touring bike features puncture resistant Vittoria Randonneur 700*32c tires. These wheels offer amazing mileage as they are specifically designed to cater to the demands of life on the road. The extra width of the tires aid the bike in withstanding the additional weight required for touring.
Forks
Trek 520 consists of TIG-welded Chromoly steel frame and aluminum fork. The fork features the thru-skew secure skewer system which prevents the wheel from falling out, unless you remove the skewer. This system ensures the quick release wheel and the fork are always aligned. The fork also has low-rider mounts where you can fit a cargo cage or full fenders.
Fuji touring bike contains a Reynolds Chromoly steel frame with Fuji Aero road fork. The fork has an elegant classic styling as well as a lugged crown and dropouts. The fork legs also have two braze-on for use as a randonneur rack, front low-rider rack, to install cargo cages or fender mounts.
Weight
The weight of a touring bike is essential as it contributes to the resistance experienced while riding. The Trek 520 has a total weight of 13.97kg and a maximum rack capacity of 38kgs. While adhering to the weight limit, you never have to worry about low bottom gear. On the other hand, the Fuji touring bike has a total weight of 13.08kg. Fuji does not provide the bike's specific rack capacity, but the wide wheels and resilient frame of the bike ascertains its ability to carry any extra load.
Trek 520 vs. Fuji touring bike – A comparison review
Trek 520 touring bike Overview and Key features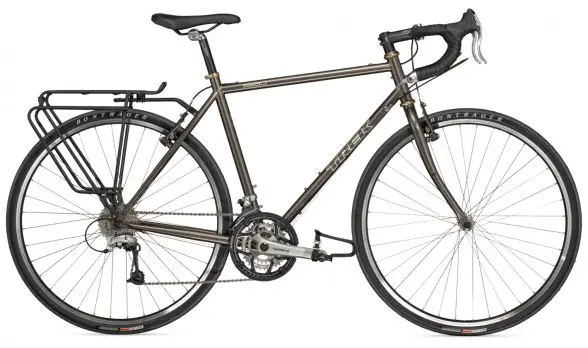 Trek 520 is the only touring model manufactured by the brand. With its 35-year existence in the industry, this touring bike is the most reliable, mid-range touring bike. Its excellent frame geometry ensures an upright riding position while ascertaining the center of gravity is low for maximum stability and comfort during your cycling adventure. This touring bike also features the Shimano Dura-Ace bar-end shifters, powerful stock brakes, and the Bontrager Back Rack Deluxe. If you are a beginner looking for a versatile bike, Trek 520 is definitely the bike for you.
What we like
Lightweight construction frame which allows comfortable riding
A reputable touring bike as it is known for its maneuverability, versatility, and reliability
Replacements parts are inexpensive
Its all-weather disc brakes and puncture-resistant tires offer more grip and traction on gravel terrains
What we do not like
Metallic paint on the bike easily chips off
 
Fuji touring bike Overview and Key features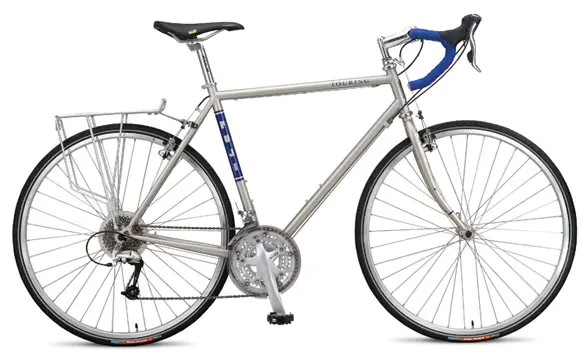 The Fuji touring bike is the first long-distance touring model from Fuji. Updated last year, the bike features a steel frame with endurance geometry and rim brakes. Its design features a tall head tube and long chainstays length, ensuring the rider is in an upright posture when riding at a fast speed. With its ample attachment points, you can comfortably carry your cargo and install additional racks of your preference. This bike comes in six different sizes, and their distinguishing factor is the paint job on each model. As such, every rider can experience this great bicycle.
What we like
Lightweight and sturdy steel frame
Easy to accessorize due to the additional attachment points
A wide range of gears for more grip, traction, and a smoother ride
Easy to repair in case of damage
Versatile
What we do not like
Not easy to find in local shops
 
Frequently Asked Questions
What is the best way to avoid buying the wrong touring bike?
Before purchasing a touring bike, it is essential to determine the terrain you will be riding on and research on the most appropriate bike to use on that particular terrain. Similarly, taking the bike on a test ride helps you get an actual feel of the bike before you buy it
How do I pack for my cycle tour?
When cycling, it is best to carry light cargo as carrying hefty loads affects the stability and comfort of your ride. If you are touring with panniers, keep your total load between 15 and 45 pounds. By putting more weight in the front panniers, the bike becomes more stable. Test ride your bike while it is fully loaded to ensure the smoothness of the ride.
What is the difference between a touring bike and road bike?
Due to their strong frame, comfortable features, and extra mounts for panniers, cargo cages, and mudguards, touring bikes cover long distances on the road. On the other hand, road bikes are a fast solution if you are looking for a quick way to get to work. They are not the most comfortable but are lightweight and have aerodynamic specifications.