Are you looking to begin mountain biking or rather, are you looking for an upgrade? From more trail-capable bikes to value-oriented ones, the choices available in the market are quite overwhelming. This Trek Marlin vs. Diamondback Overdrive review delves into useful information about these two high-quality hardtail bikes.
If you are a rider looking for the best hardtail bike that is not only great for trail sessions after work but also weekend backpacking trips, the Trek Marlin and Diamondback Overdrive mountain bike series is ideal for you. These two brands are well known to manufacture full suspension hardtail bikes which are much faster and lighter through technical terrain than the older versions. The following Trek Marlin vs. Diamondback overdrive review provides an extensive look at what these bike brands have to offer.
What are the differences between Trek Marlin vs. Diamondback Overdrive
| | | |
| --- | --- | --- |
| Model | Trek Marlin 5 | Diamondback Overdrive Carbon Comp |
| Frame | Alpha Silver aluminum | Carbon fiber |
| Drivetrain | Shimano Tourney 21-speed drivetrain | SRAM NX 11-speed X-Actuation |
| Brakes | Tektro HD-275 Hydraulic Disc | Shimano BR-M315 Hydraulic disc |
| Tires | Bontrager XR2 27.5/29*2.2/2.0†| Kenda Honey Badger 29*2.2†|
| | | |
 
Trek Marlin vs. Diamondback Overdrive – How do they compare to one another?
Frame
The Trek Marlin bike series has a strong and lightweight Alpha Silver aluminum frame as well as an advanced G2 geometry ideal for high-speed stability. The frame's single wall thickness is not only ideal for durable performance but also provides secure handling on the toughest trails.
Diamondback Overdrive is a race-ready hardtail bike with a carbon fiber frame. This bike's monocoque construction and geometry are designed to push the rider hard while going downhill and to maintain ground-breaking stability when negotiating demanding corners. The frame also absorbs impacts in the chainstay, giving you confidence as you enjoy a comfortable ride.
Fork
Trek Marlin has SR Suntour XCE 28 suspension fork with 100mm of travel. This particular fork allows smooth riding with easy maneuverability during enduro rides and the most demanding trails. It absorbs road vibrations, allowing the wheels of the bike to conform to the texture of the road.
Diamondback Overdrive contains RockShox Recon fork with 100mm of travel which has rebound adjustment and lockout to increase climbing traction. The rigidity of the fork is preferable for mountain use as it provides unique stability.
Grip
When riding on rough terrain, a good grip is essential as it offers good steering control and prevents long-term wrist pain.
The Marlin model features Bontrager alloy handlebars and Bontrager XR Endurance Comp grips. This lock-on grip features a contour shape to provide the ultimate comfort and support. It also has an opposing tread pattern to ensure your fingers remain in place and your palms are padded to prevent any pain when riding through rough terrain.
The Overdrive model has a wide 740mm handlebar as well as a 70mm stem which gives you more control and confidence as you enjoy your off-road cycling adventure.
Trek Marlin 5 vs. Diamondback Overdrive Carbon Comp – A Comparison Review
Trek Marlin 5 Overview and Key features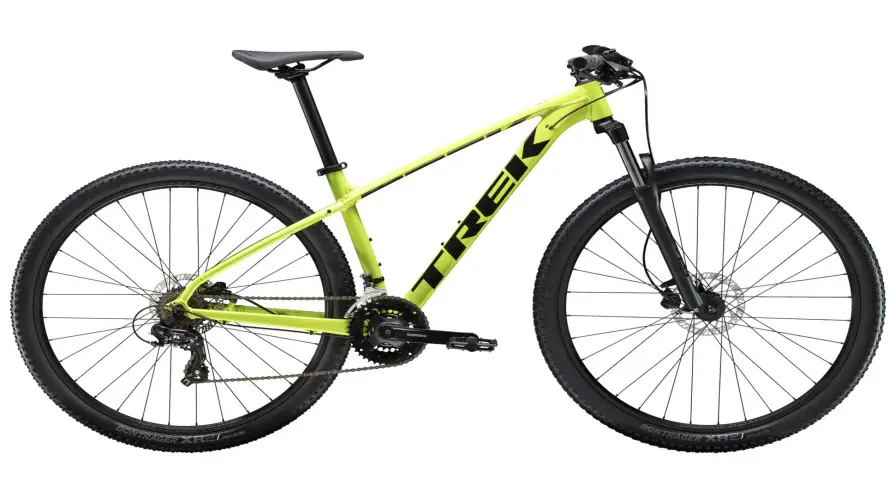 Available in multiple colors, Trek Marlin 5 is a cross-country hardtail mountain bike, ideal for riding with your friends or on long races. This bike delivers a versatile and durable performance whether on or off the trail.
From its lightweight Alpha Silver Aluminum frame to its 21-speed drivetrain to its 7-easy-to-change gears, this bike is perfect for anyone looking for a comfortable and stable commuter with the ruggedness of a mountain bike. The bike also features hydraulic disc brakes which offer a smoother ride than the mechanical disc brakes.
What we like
Available in multiple colors and sizes
Separate gear and brake levers for optimum comfort when riding
Easy to accessorize as it has rack and kickstand mounts
A lightweight frame and comfortable Bontrager Arvada saddle
Impressive climbing and downhill traction due to its Bontrager XR2 29*2.2†tires
What we do not like
Brakes may require frequent repair if you often ride through rough terrain
 
Diamondback Overdrive Carbon Comp Overview and Key features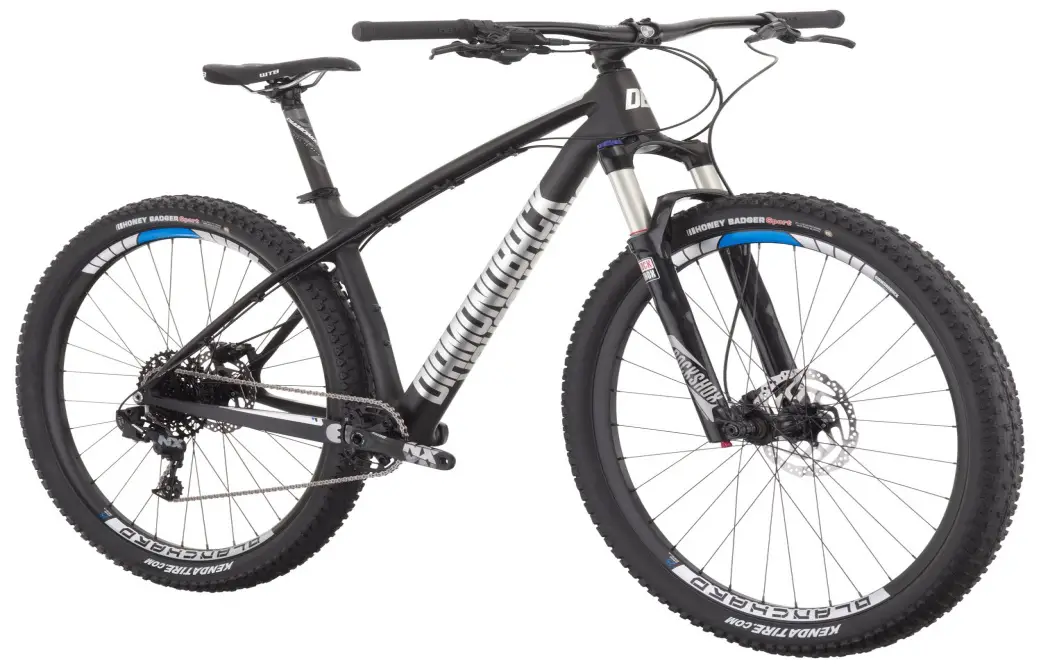 This Overdrive model is built specifically for speed due to its lightweight carbon fiber frame and 29-inch wheels. This classic bike with modern components allows any new rider to enjoy the perks of a great and versatile bike without breaking your bank account.
With Shimano Hydraulic disc brakes, a 1*11 drivetrain as well as Kenda Honey Badger wheels and broader rims, this bike has incredible traction both up and downhill. Along with its upgradable components, this overdrive model will be reliable for many years to come and for numerous adventures.
What we like
Light monocoque construction
Versatile performance due to its 29†Kenda Honey badger tubeless tires and wide rims
Affordable bike with high-quality components
Smooth and comfortable bike as its RockShox Recon Gold forks absorb all road vibrations
What we do not like
The bike might take a long time to assemble despite its partial assembly when shipped.
Uncomfortable saddle for long rides through rough terrain
 
Frequently Asked Questions
What is the difference between a hardtail bike and full suspension bike?
A full suspension bike features rear suspension forks fitted over the back wheel which contributes to the overall weight of the bike. As a result, this bike is perfect for tough rides and has lower maintenance costs as compared to the hardtail bike.
On the other hand, a hardtail bike has a suspension fork at the front wheel which increases climbing traction. Similarly, hardtail bikes are much lighter than full suspension bikes; hence they are a better option if you often enjoy uphill adventures.
Which is the better wheel for my mountain bike: 27.5†or 29�
Your bike's wheel size depends on the terrain you are likely to ride on and what you expect from your mountain bike. The 27.5†wheels are faster and lighter than the 29†wheels. However, if you are riding over long distances and require a more flexible wheel, the 29†ones are more suitable for you. They take some time to accelerate but are ultimately more efficient and more responsive than the 27.5†wheels during long-distance rides.