The trek verve 1 and Trek FX 1 are very similar, they are both introductory models in their lines and share quite a bit of feature. So I thought a detailed trek verve 1 vs. trek FX 1 comparison would come in handy.
These bikes are both from the trek hybrid line, which basically means they are a cross between a road bike and mountain bike. They both have light, but sturdy aluminum frames, versatile and are ideal if you are looking for a comfortable riding experience.
To avoid getting overwhelmed when choosing between the two, you need to know the riding you plan on doing. If you are interested in recreational riding then the trek verve 1 is an ideal bike for you, it keeps you out for longer with a non-strenuous upright riding position and padded saddles.
While the trek FX 1 will be more suited to your fitness needs. It's the perfect bike for the speed racer and will let you keep up with other road bikes.
In this trek verve 1 vs. trek FX 1 review, we delve deeper into the differences that exist between these two bikes.
What features make up the differences and similarities between these two bikes?
| | | |
| --- | --- | --- |
| Model | Trek verve 1 | Trek FX 1 |
| Fork | Steel | Steel |
| Saddle | Bontrager padded | Bontrager sport |
| Tires | Bontrager H5, 700×45c | Bontrager H2, 700×35c |
| Weight | 29.06lbs | 27.66lbs |
| | | |
Trek Verve 1 vs. Trek FX 1- How do you choose?
Upright geometry
The trek verve 1 bikes' upright geometry enables the user to comfortably take in the sights while riding in an upright position. This feature also makes riding less strenuous, and you can easily cover more miles on without feeling beat.
Unlike the verve 1, the trek FX 1 is more of a fitness bike and it users get a neutral riding position. You are guaranteed great cardio on this bike.
Wheel Size
Equipped with Bontrager H5 700×45c, the trek verve 1 offers its user stability, comfort and better traction which you will appreciate on your beach ride. This feature makes the trek verve 1 a good choice for gravel trail rides because wider tires absorb bumps more efficiently.
The trek FX 1, in contrast, is fitted with Bontrager H2 700×35c tires which presents a lighter wheelset to the user. Smaller width tires offer more agility and faster speeds, especially on flat surfaces. If having a wide tire is a hard limit for you, you can always buy and install wider rims and tires.
Saddle
A wide padded seat has you enjoying your ride for longer without quickly getting fatigued. The trek verve 1 is known to offer its users some TLC making it the perfect bike for long excursions.
The trek FX 1 bike in comparison carries a Bontrager sport saddle which will have you experiencing a bit of butt fatigue after a short ride.
Trek Verve 1 vs. trek FX 1 features review
The Trek Verve 1
If you are looking to get out and exercise more the trek verve 1 is the perfect bike for you. Its wide tires and ergonomic grip give the rider a stable and comfortable riding experience making it the best choice for a beginner. The steel fork absorbs road bumps and makes for stable, predictable handling. It comes with a padded saddle and upright riding geometry which will reduce the strain of long haul rides.
Pros
• Its 700×45mm gives great traction, especially on sand making it perfect for beach rides
• It's Alpha gold aluminum frame will definitely last, and you can use the bike for years without having to replace or repair it.
• Its 21 speed allows you to easily shift through gears and also provides a wide gear range suitable for steep climbs.
Cons
• Its quill stem does not make for easy on the go adjustments.
The Trek FX 1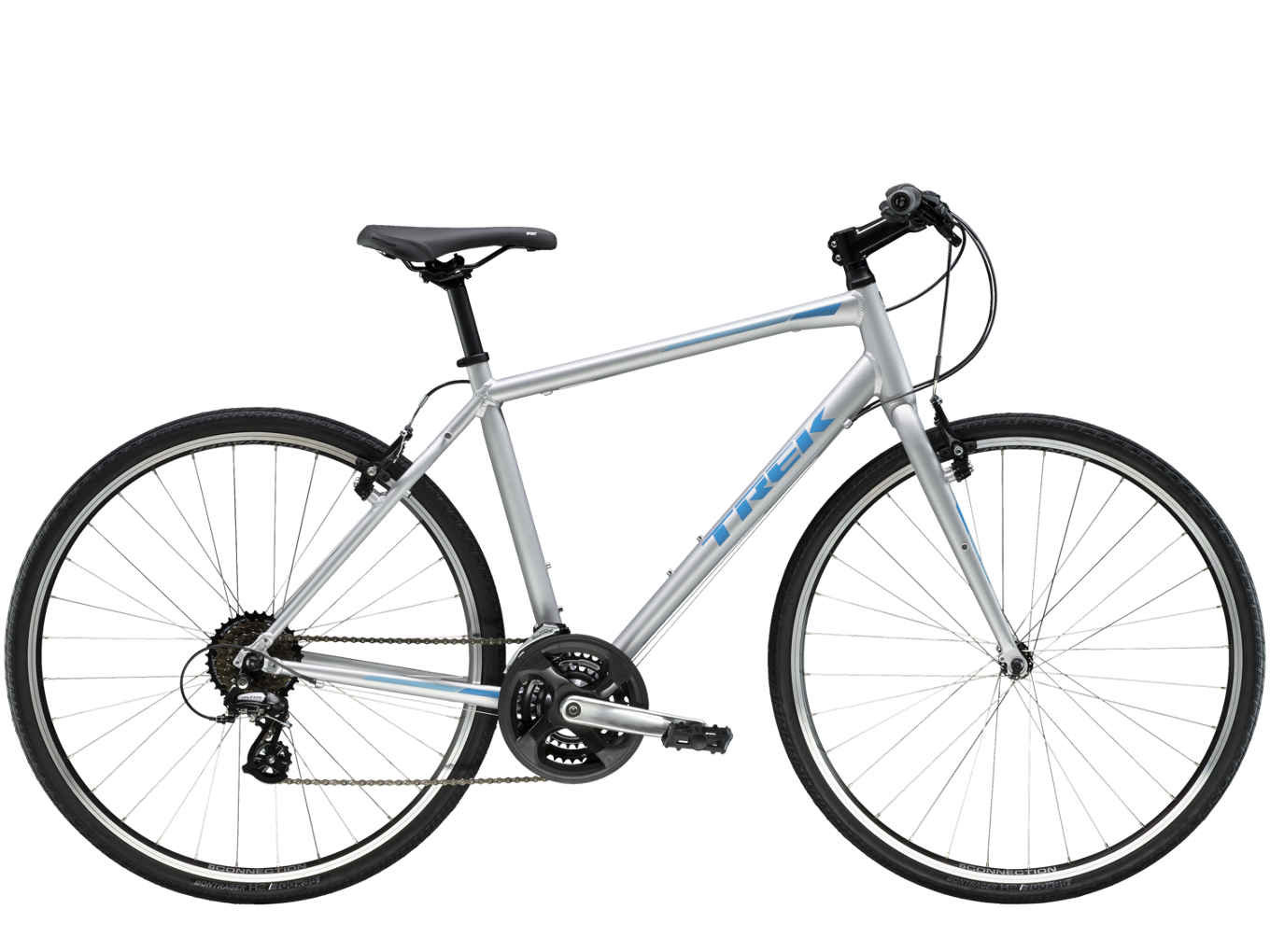 The trek FX 1 is the introductory model to the Trek FX line, if you're just getting into the riding scene its 21 speed, Shimano Altus lets you navigate all terrains at a comfortable gear speed. Its in-built mount feature allows you to accessorize with a variety of items like kickstands and fenders. The FX 1 bike strong doubled walled wheels make it perfect for off-road excursions, long commutes, and exercise.
Pros
• Bontrager H2 700×35c allows you to easily mount fenders.
• Duo Trap S compatible which is a Bluetooth antenna that lets you link your smartphone and this helps you track your fitness on your phone
• Its aluminum frame reduces the bike weight giving you more natural balance.
Cons
• Its smaller width tires make it less ideal for mountain biking.
Frequently Asked Questions
Do wider tires ride better?
A beginner who wants to navigate downhill rides with confidence will benefit more from a wider tire as they offer more stability and traction than smaller width tires. But if you plan to use your bike mostly on flat surfaces, a smaller width tire will be ideal.
What is the advantage of upright riding geometry on the verve 1?
Well, other than giving you a comfortable riding experience, the upright geometry allows you to stand while pedaling.
Will a heavier bike slow me down?
Having a lighter bike will only save you seconds, your weight plus the weight of your accessories and water bottles play a bigger part in how fast you go than the bikes weight.
What is the best cycling position?
There is no written ideal riding position; all that matters is that you feel comfortable and have a bike that suits your weight and build.
Can I convert my neutral position trek FX 1 to an upright position?
Yes, you can, by adjusting your quill stem raising the handlebars and turning them, so they are closer to you. You should keep in mind that an upright position does not guarantee your comfort if your bike is ill-fitted to your frame. There is nothing wrong with a bent over position at the end of the day.