Are you looking for a hybrid bike that will not break your bank account? Are you looking to get to work faster – or to get fit? This Trek vs. Diamondback hybrid bikes review lists down a detailed comparison of these two popular hybrid brands.
A hybrid bike is a versatile bicycle that allows a rider to ride smoothly on different terrains. They are my personal favorite as I use my hybrid bike for weekday commutes and weekend getaway adventures. However, two hybrid bike models that have recently caught my attention are the Trek and Diamondback hybrid series. Here is why.
What are the differences between the Trek and Diamondback Hybrid bikes?
| | | |
| --- | --- | --- |
| Model | Trek FX 3 | Diamondback Edgewood complete hybrid bike |
| Frame material | Alpha Gold Aluminium | Heat-treated butted aluminum |
| Saddle | Bontrager H1 | DB Deluxe hybrid double-density base |
| Handlebars/Grip | Bontrager Satellite Plus IsoZone | Steel 50mm riser |
| Drivetrain | 27-speed | 21-speed |
| | | |
Trek vs. Diamondback hybrid bikes – How do they compare to one another?
Grip
The geometry and grip of a bicycle determine the rider's riding position. Handlebars and grip actively contribute to steering control as well as braking power.
Trek FX hybrid series consist of Bontrager Satellite handlebars with inForm ergonomic grips. They provide support for your hands and neutralize road vibrations, resulting in a comfortable and enjoyable ride. The inForm grips are ergonomic as they take up the shape of your hand as you ride, thus eliminating unnecessary pressure and improving comfort.
Diamondback Hybrid bikes have alloy handlebars and grip which are light and durable. Due to their stiffness and rigidity, they offer excellent steering control and maneuverability.
Forks
Trek FX series uses the Bontrager Nebula carbon fork. Having such a top-quality carbon fork has its advantages; it's lightweight and blends well with the bike's cockpit. The fork also provides stability and all-weather stopping power during that rough ride.
Diamondback hybrid bikes use the HL Zoom Sport Comfort suspension forks. Apart from providing that smooth ride, these forks absorb most of the road vibrations, ensuring you do not lose control of the handlebars.
Weight
The Trek FX series comes with an Alpha Gold Aluminum frame which is quite light. The design of the frame is manipulated into various shapes to balance the weight and the strength of the bike. The bikes in this series have a weight o 11.86kgs and a load carrying capacity of up to 300 pounds.
The Diamondback hybrid bikes feature a heated-treated butted aluminum frame which is a lighter carbon frame. Its stiff design translates to more pedaling power and better maneuverability. These bike series have an overall weight that ranges between 24 -28 pounds. They also have an average carrying capacity of 300pounds at a speed of about 10mph on level ground.
Trek FX 3 vs. Diamondback Edgewood Complete – A Comparison Review
Trek FX 3 Overview and Key features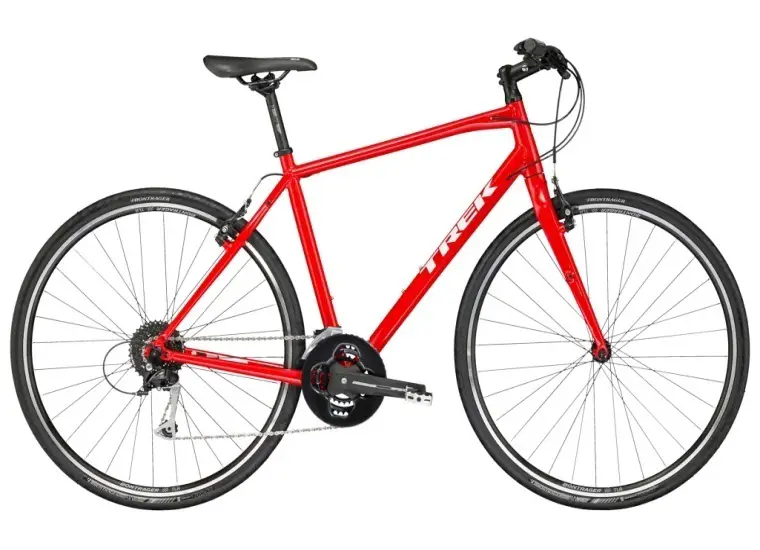 The Trek FX 3 bike is a powerful and versatile bike used for both fitness and commuting. It is the perfect blend of a top quality road bike and a city comfort bike. From its availability in two different colors to its light Aluminum frame, hydraulic disc brakes, and IsoZone gel handlebars and grip, this bike is the ideal riding companion on rail and road trails. This nifty bike also comes with tough Bontrager case tires which are puncture-resistant and keep bumps from slowing you down. They also have tubeless rims that lower tire pressure for increased traction and comfort when riding.
What we like
A lightweight frame and sleek appearance
Puncture-resistant tires
Versatile performance
Ergonomic grip and comfortable saddle
User-friendly as it is Duo Trap S compatible and has the Blendr system
Extra mounts for accessories like mudguards and a rack
What we do not like
Limited braking performance
 
Diamondback Edgewood Complete Overview and Key features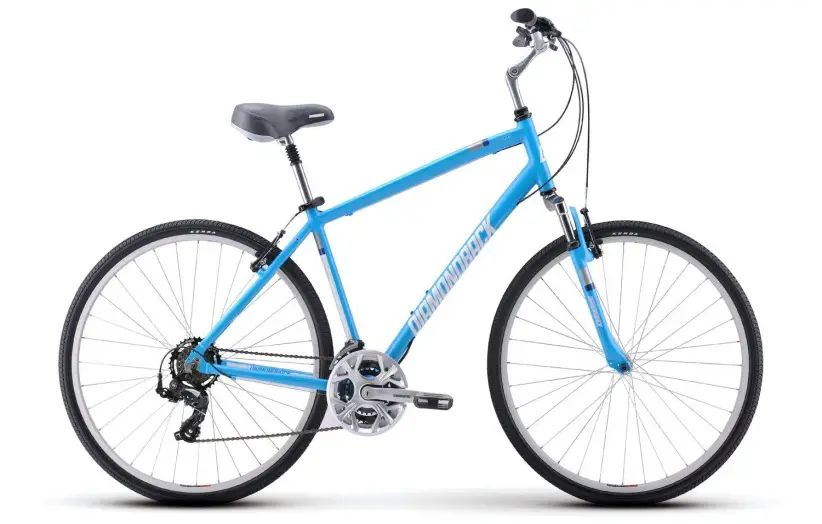 The Edgewood model is a complete hybrid bike with huge and excellent wheels as well as smooth gears and shifters. Despite its heavy-duty components, the bike offers top quality and versatile performance, even on wet terrains. Some may argue the bike has the ideal balance of the geometry of a touring bike and the ruggedness of a road bike.
This Diamondback model comes with a 21-speed drivetrain and plenty of extra gears to give you an excellent and non-strenuous pace when riding on rough and windy places. Its alloy linear brakes as well provide adequate stopping power with minimum maintenance. If you are looking for a robust and affordable hybrid bike, the Diamondback Edgewood Complete model is the ideal bike for you.
What we like
A strong and lightweight frame
Restful positioning allowing long distance riding
Adjustable plain handlebars with a cushy saddle with seat post
High-quality brake system
What we do not like
The bike comes with low-quality pedals
Difficulty in assembling the bike due to its poor instructions
 
Frequently Asked Questions
What size bike should I purchase?
When buying your hybrid bike, it is advisable to buy one from your bicycle local store since they have the general size chart for bike size. Otherwise, the size of your bike depends on your weight and height. Always take your preferred bike out for a test before purchasing.
What is the difference between a cruiser and a hybrid bike?
Both bikes provide optimum comfort and casual riding. Cruiser bikes have wider tires and more upright positioned handlebars as compared to hybrid bikes. They are not as versatile as hybrid bikes due to their old-fashioned coaster brakes.
Is a hybrid bike better than a road bike?
A hybrid bike prioritizes comfort over performance, unlike road bikes. They have a wider saddle to offer an upright riding position when riding. Road bikes have a heavier frame and are for use on paved roads. The bike's handlebars and geometry give the rider a forward-leaning and aerodynamic riding position.
Can I use my hybrid bike off-road?
Hybrid bikes provide smooth and versatile performance on roads. However, their wide tires allow some light off-road use on canal towpaths and gravel tracks. Their extra gears also make them a better option compared to road bikes as they have more climbing traction.