When venturing into road biking, there are various factors you need to consider such as where will you ride and what do you aim to achieve. This Trek vs. Fuji hybrid bikes review offers detailed information on which of these two reputable brands manufactures a better performance bike.
When I first began cycling, I purchased one of the older bike models, which was quite heavy, slow and it was tiresome to maneuver, even on city roads and light trails. However, with the invention of hybrid bikes, I found a solution to all these issues. Trek and Fuji hybrid bikes are industry leaders in manufacturing hybrid bikes. With this Trek vs. Fuji hybrid bike review, you too will discover the solution to tiresome and stressful cycling.
What are the differences between Trek vs. Fuji hybrid bikes
| | | |
| --- | --- | --- |
| Model | Trek FX 2 | Fuji Absolute 1.9 |
| Frame material | Alpha Gold Aluminum | A2-SL Custom butted aluminum frame |
| Handlebars and grip | Bontrager Satellite handlebars and ergonomic grip | Alloy handlebars with Velo comfort sport grip |
| Saddles | Bontrager Sport | Selle Royal Milo+ |
| Drivetrain | 24-speed | 24-speed |
| | | |
Trek vs. Fuji hybrid bikes – How do they compare to one another?
Frame and design
The frame is the foundation of any bike you may come across. It contributes to your bike's performance and affects the total weight of your bike.
The Trek FX 2 has an Alpha Gold Aluminum frame which offers the right balance of flexibility and stiffness for a luxurious bike ride. It also features rack and mudguard mounts which make it easy to accessorize. With a total weight of 11.4kg, its light construction frame ensures a smooth ride as well as exceptional maneuverability.
Fuji Absolute 1.9 has a custom butted aluminum frame and a threadless top tube. The innovative design of the head tube; flat-shaped at the top and tubular at the bottom, accounts for ¾ the weight of the frame. With its adjustable stem, this bike gives you rider-friendly upright posture for better riding.
Grip
Excellent bike control begins with a solid grip on your handlebars. Trek FX 2 has light and durable Bontrager Satellite handlebars with an ergonomic grip. Its ergonomic feature allows the handlebar to provide a cushy support system for your hand while you ride. The handlebar also has an inner sleeve which provides extra grip on the handlebars for better steering control.
Fuji Absolute 1.9 consists of an alloy handlebar with Velo comfort sport grip. Its drop style handlebars and flat bars ensure the rider maintains an upright and comfortable posture. It also aids in making effective trigger shifters.
Weight
The weight of a bike does not actively affect the performance of the bike. However, it is an important consideration when buying any bike for purposes of portability. As such, Trek FX 2 weighs 11.4kgs (25.13lbs) and has a weight carrying capacity of 300 pounds (136kg). On the other hand, the Fuji Absolute 1.9 weighs at 12.38kgs (27.29lbs). Due to the different models of the Fuji Absolute, every rider has a wide array of options, depending on their height and weight.
Trek FX 2 vs. Fuji Absolute 1.9 – A comparison review
Trek FX 2 hybrid bike Overview and Key features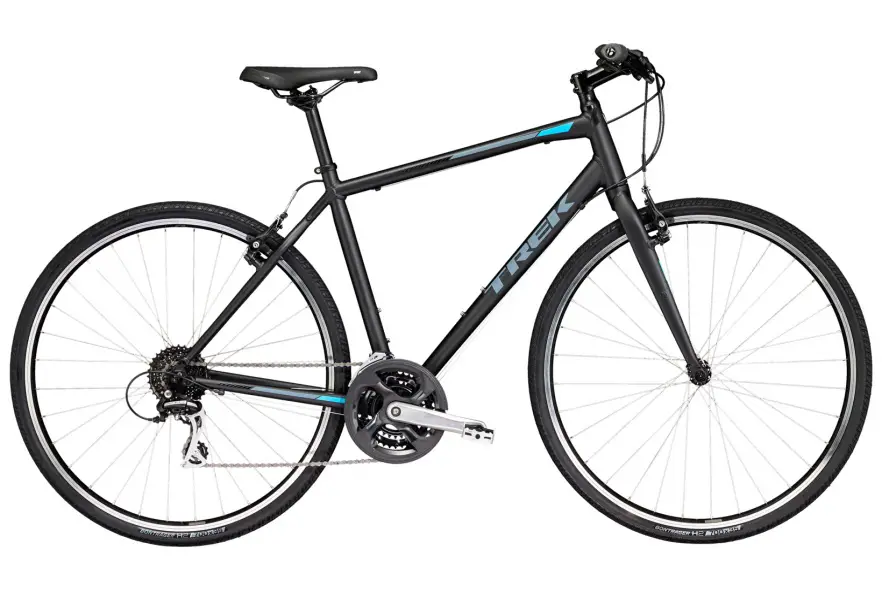 Trek FX 2 combines speed, comfort, and versatility. This hybrid bike is both a fitness bike as well as a commuter bike, among so many other uses. With its lightweight Alpha Gold Aluminum frame and Shimano Acera 24-speed drivetrain, you can ride on hilly terrains, roads, racks, and loose terrain due to its different gears. The FX 2 also has several other features such as DuoTrap S compatible, Blendr Stem, as well as rack and mudguard mounts.
What we like
Made from high-quality components
Lightweight and durable frame
Smooth and responsive ride because of its extra gears and Bontrager H2 700 x 35c Tires
Versatile
What we do not like
Low traction control when climbing as compared to other models
Slow in speed due to its wide and heavy wheels
 
Fuji Absolute 1.9 hybrid bike Overview and Key features


If you are an urbanite looking for an easy way to move around or exercise, the Fuji Absolute 1.9 is the bike for you. With its light custom butted aluminum frame and endurance geometry design, the long chainstays and taller head tube ascertain the rider has the proper posture while riding. This bike also has internal cable routing for better aerodynamics, a clean aesthetic, and longer cable life. With the Fuji Absolute 1.9 performance level and high-quality construction, there is no limit to where it can take you.
What we like
Safe and reliable disc brakes which deliver all-weather stopping performance
Aerodynamically shaped frame for proper posture when riding
A wide range of gears for more traction and a smoother riding experience
Easy to accessorize because of its fender and rack mounts
What we do not like
Loud gear transmissions
Brake levers are uncomfortable to use when cycling
 
Frequently Asked Questions
What are the benefits of purchasing a hybrid bike?
A hybrid bike is best suited for urbanites that enjoy cycling around the city on the well-built city roads. These bikes offer a rider an upright and comfortable riding position as well as medium-sized tires which give the bike its stability. A rider may occasionally negotiate a rough spot on the road or cut through the grass confidently without worrying about any repercussions.
Is a hybrid bike better than a road bike?
A road bike is suitable for paved roads and features a lightweight frame and narrow tires for maximum efficiency and speed as well as aerodynamic geometry for a forward-leaning riding position. Hybrid bikes (cross bike) have a more massive frame and broader and more robust tires than road bikes. As such, you can ride them over rough terrains and climb hills due to its extra gear range. These bikes are also more comfortable to ride.
Are hybrid bikes good for cycle touring?
An excellent and fully equipped hybrid bike can take you on an 80km daily ride, depending on your physical fitness. For distances more than 80km, it is advisable to use a road bike as it is more capable than a hybrid bike, in this case.