Every mountain biker knows the best trail bike is tough and durable to survive the wild terrains. In this Trek vs Fuji review, discover the features modern trail bikes come with to provide a wholesome riding experience.
If you are serious about mountain biking, then you know the value of a high-performing trail bike. You understand that the bike should have a frame and components made of quality material. As an avid trail biker, I was searching for the best trail bike on the market. The options I got did not meet the standards I wanted. Some had frames so frail and needed fixing all the time. I also had bikes that did have a solid frame but the wheels gave up after a series of rough terrain riding. So I needed a bike with both a strong frame and quality tires that can survive the brutal environment of the mountains. I realized I had to up my spending budget so I could get in the range of premium bikes like the Trek X-Caliber 8 and Fuji Bighorn mountain bikes.
Differences between Trek vs Fuji- How do they compare?
| | | |
| --- | --- | --- |
| MODEL | Trek X-Caliber 8 | Fuji Bighorn |
| Frame | Aluminum | A6-SL |
| Tires | 27.5"-29" | 27.5" |
| Weight | 29.6 lbs. | 30.30 lbs. |
| | | |
Trek vs Fuji – An In-depth Comparison
Frame
The best mountain bike has a strong frame that can endure rough terrains. The Trek X-Caliber 8 features an alpha gold aluminum frame which is lightweight and durable. Trek used what they call G2 Geometry to achieve a smooth and streamlined frame. Most of Trek's trail bike include a shock technology that boost the frame's performance on jugged terrains.
The Fuji Bighorn is also a beast when it comes to frame design. It boasts of a unique type of aluminum known as A6-SL. This is the latest frame Fuji is using in their premium bikes. It is a combination of magnesium, copper, and silicon. A6-SL when passed through heat treatment yield the best weld zone strength.
Tires
Trek X-Caliber 8 has Bontrager XR2 tires which are 27.5 x 2.2 inches thick. They fit on Bontrager Kovee tubeless ready rims. This wheel combination ensures your bike feels smooth to ride even when going through bumpy surfaces. The 27-inch tire keeps the inner tubing protected from damage. If you wish, install tubeless wheels and never worry about punctures. Trek bike also has larger rims that support 29-inch rims. This adds more option to the kind of experience you can have with the bike.
Fuji Bighorn bike comes with Maxxis Rekon 27.5 x 2.8-inch tires that are tubeless ready as well. These tires sit on quality 27.5″ + 32H durable rims. The rear wheel boasts of a Shimano MT400 hub with rust-proof black spokes. If you are an avid off-roader, Fuji recommends installing tubeless wheels to unlock more potential on the bike's performance.
Frame Design
A high-performance mountain bike should have a simple frame design. The design should make it easy to get on and off the bike or make it easy to steer the bike while riding. Both Trek and Fuji understood this and went for a step-thru frame design on their mountain bikes.
Trek X-Caliber 8 features a smooth step-through design that connects the slanting cross-bar to a short head tube. Getting on the bike is as easy as swinging one leg over and start riding. See how the Trek X-Caliber 8 frame compares with other premium trail bikes.
Fuji Bighorn also boasts of a sturdy frame assembled with precision. It feels lightweight making it easy to handle in rough terrains. You have frame features that allow you to attach a water bottle or install fenders.
Trek vs Fuji – A Comparison Overview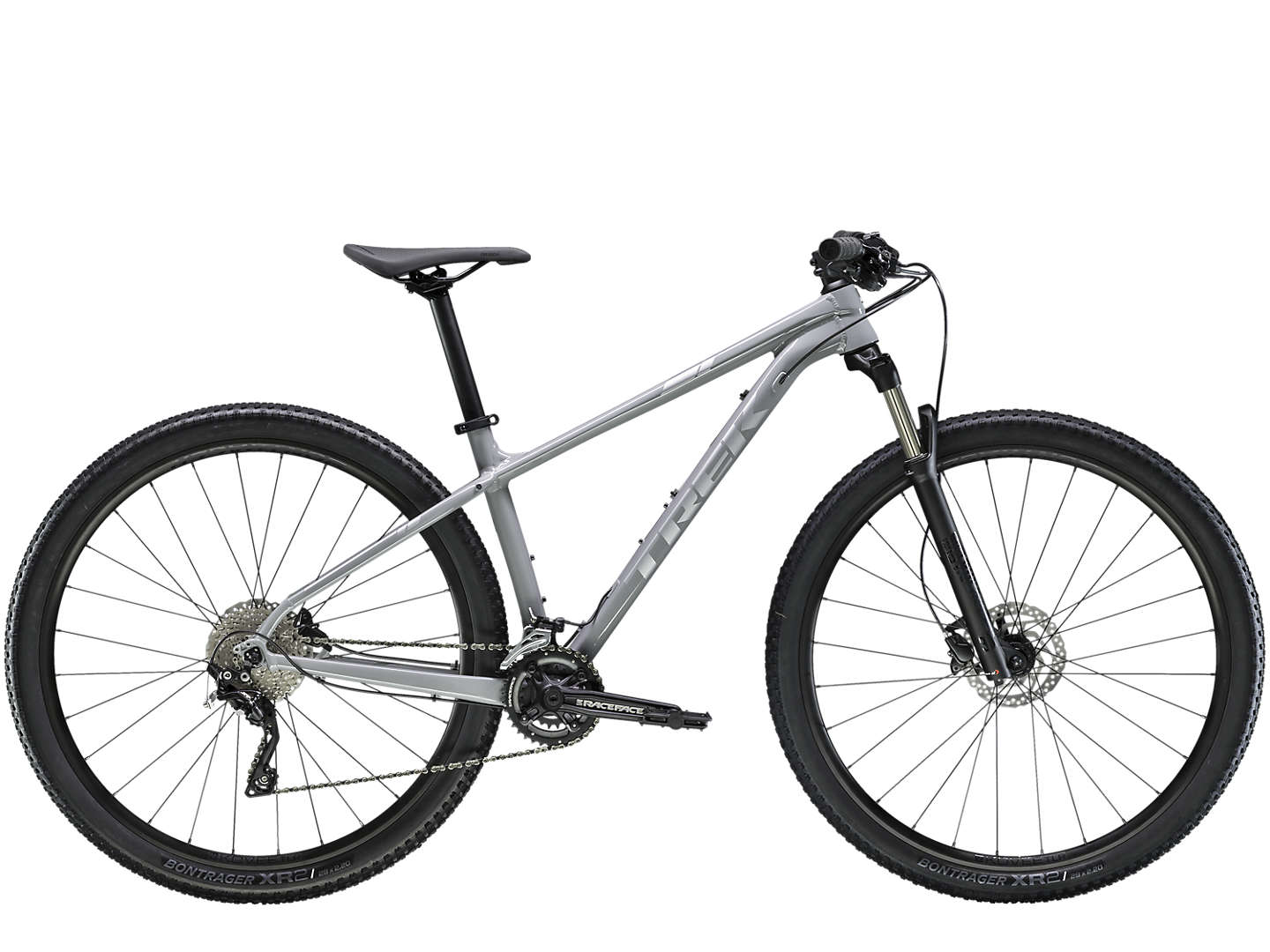 Trek is one of the leading manufacturers of high-quality mountain bikes. The X-Caliber 8 is a stylish trail bike designed for those who want to push their limits. This top tier bike comes with a Shimano M6000 10 speed drivetrain. Built from high-quality alloy, the Shimano drivetrain is nimble in switching gears. You can feel the bike pick and maintain steady speeds even when going up a slope.
The handlebar features a riser design allowing you to ride in a comfortable position. Bontrager XR nylon grips are on either end of the handlebar. This increases your grip on the bike and ability to steer it. When in high speeds, the quality Shimano hydraulic MT200 discs help you slow down or halt.
Pros
High-quality frame
Durable components
Heavy duty tires
Cons
Only available in two colors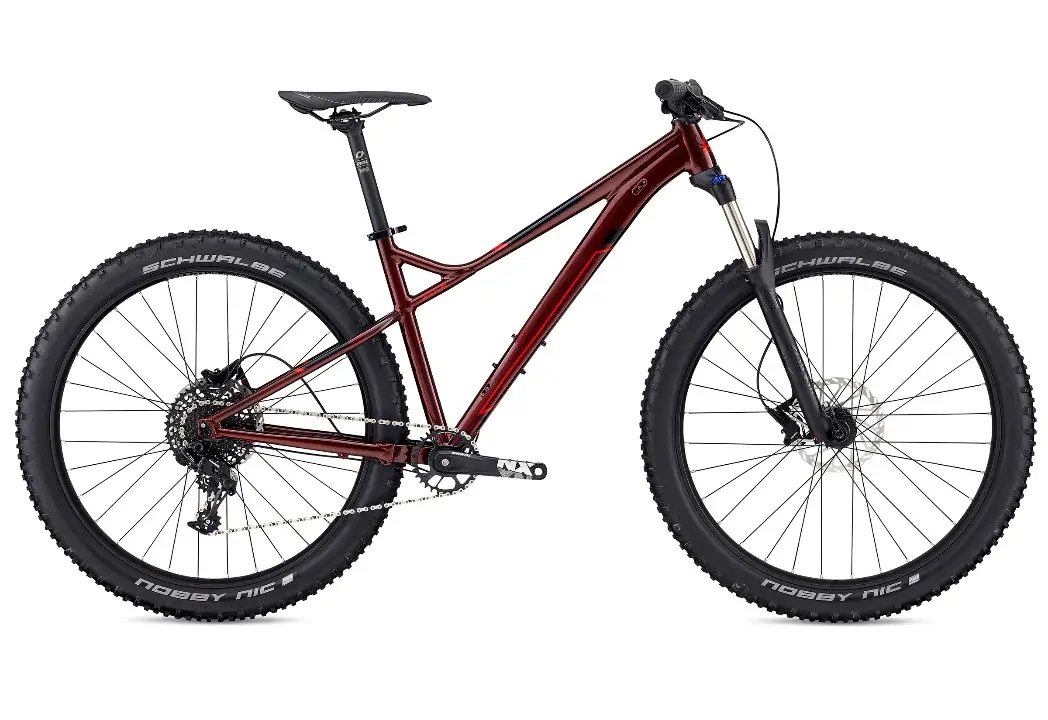 Fuji Bighorn trail bike is a mean machine built for the rough terrains. It features an A6-SL frame which is an alloy of magnesium, silicon, and copper. The bike has shed off unnecessary weight to make it faster and better when handling it.
This bike comes with a unique cable management setup. The bike maker concealed all cables inside the tubular frame for a cleaner look. Hiding the cables also help protect them from dirt or damage.
Fuji Bighorn mountain bike is available in five main sizes. The sizes are Small (15"), Medium (17"), Large (19"), XL (21"), and XXL (23"). You can buy this bike in grey which is an excellent color that echoes its toughness in rough jungle.
Pros
Strong durable frame
Aesthetic design
High-performance frame
Cons
Conclusion
Owning these two bikes is a bittersweet affair. The sweet part is that they both retail at the same price and come with solid features. The dilemma is that I am struggling to pick a side. I love both bikes and their nimble reliable performance. Anyway, since we have to pick a winner, I will have to go with the Trek X-Caliber 8. It feels lighter and easier to handle. I can also fit 29" wheels on it giving me more traction for better handling. As a successor of the Trek X-Caliber 7, this bike is value for money.
FAQ
How do I choose the right mountain/trail bike?
Get a frame size that suits your height. Most bike companies provide a size chart to make deciding easier.
How much does a good mountain bike weigh?
A decent mountain bike should weigh between 21 and 29 pounds. The lesser the weight the better the handling.
Is a mountain bike off-road only?
You can ride a mountain bike on normal roads. Bear in mind the pedal will feel a bit harder than a normal bike. The riser handlebar ensures you are in an upright riding position which is comfortable.
Can I change a mountain bike into a road bike?
With some minor changes, a mountain bike can become roadworthy. This entails changing the features that make it off-road.