Every rider knows what features he can and cannot do without in a bike. This Trek vs. Giant Mountain bikes review examines features in two bikes to help you determine which one meets all your requirements.
I am a roadie who loves the thrill of speed. My cycling buddies and I take long rides out of town. Most of our rides are on tarmac roads but I often struggle with excessive fatigue after out adventures. I need a smooth bike which remains stable at high speed and is comfortable enough for me to enjoy long distance rides without getting exhausted along the way.
What are the differences between Trek and Giant Mountain Bikes? How do they compare?
Model

Trek Domane SL 5

Giant Fathom 1

Shifters

Shimano 105, 11 speed

Shimano SLX, 1×11

Stem

Bontrager Elite, 31.8mm, 7 degree, with computer & light mounts

Giant Connect, 8-degree

Derailleurs

Front: Shimano 105, braze-on
Rear: Shimano 105

Rear: Shimano SLX, Shadow+
Trek vs. Giant Mountain Bikes – A Detailed Comparison
Frame:
Trek's Domane SL 5 has a frame made out of 500 Series OCLV Carbon. Optimum Compaction Low Void (OCLV) carbon was pioneered and is patented by Trek for use on its products. It is made by compressing layers of carbon together under high heat to produce a carbon lug. This is done while ensuring minimal spaces between the layers because voids in-between layers mean reduced strength and reduced durability of the final metal.
The Giant model has a frame made out of what Giant calls ALUXX SL. This company-made metal is produced from 6061 aluminum alloy. It gives a top-notch strength-to-weight ratio. The tubes are double butted (2 wall thickness.) The aim of this is to reduce weight and increase stiffness. The bike becomes a more efficient climber thanks to its reduced weight and gives better handling because the frame now doesn't flex about as you steer.
Fork
The Trek's fork is made from Domane carbon. Domane is a name used to refer to Trek's bike model which first carried the unique Iso Speed technology. This carbon allows you to enjoy a balance of stiffness and comfort which are both crucial elements of ride quality. Stiffness makes the bike accelerate as soon as you pedal and comfort ensures you can ride for long distances without much fatigue.
The Giant's fork is made from Santour Axon 32 LO RC Alloys. The Suntour Axon LO-RC keeps the front of the bike suspended and protected from impact. The Axon has magnesium lower legs and aluminum stanchions. It is extremely light because the suspension utilizes air pressure as a mainspring. The result is an adjustable fork which can be adjusted to suit you depending on your weight.
Seat Post
Trek's Domane SL 5 is fitted with a Bontrager Ride Tuned seat mast cap. This is a company-made carbon seat post attachment made for Trek frames. It has a patented one-bolt design which makes installation and adjustment easy. The seat mast is fixed by a hex bolt.
Giant's Fathom 1 has a Giant Contact Switch dropper post which is connected to a remote lever. Dropper posts have revolutionized riding because you no longer have to get off the bike to adjust the height of your saddle. You can adjust it while in motion using a lever mounted on the handlebar. This allows you to remain comfortable regardless of changing trail conditions.
Handlebars
The Trek has drop bars while the Giant has flat bars. Drop bars are more aerodynamic because of the crouched position you are in when riding a drop bar bike. This helps to increase speed and reduce pedaling power required to maintain speed. The downside to drop bars has to do with the varying options for hand placement. If you are riding with your hands on the drops, for instance, and a car suddenly appears in front of you, you will need to quickly move your hands to the brakes. Flat bars provide significantly better control especially when riding on rough trails. On the downside, flat bars offer less aerodynamic advantage because of the upright position you are in when riding this kind of bike.
Trek Review


Trek's Domane SL 5 is designed to give you a smooth riding experience as well as speed. It is built with an IsoSpeed decoupler. In this technique, the diamond shape of the frame set is maintained, only that the seat tube is decoupled from the top tube. This lets the seat tube flex with bumps. The overall result is a bike whose movements take the shape of the road and is still as efficient as a traditional race bike.
Trek utilizes one of its newer innovations, Power Transfer Construction on this model. It connects the head tube and bottom bracket to a stiff down tube. This ensures you get the most out of each and every pedal stroke by transferring all the pedal power to the road for increased speed.
This model is fender compatible, which means that it has fender mounts which you can use to attach full-coverage fenders.
Pros
Stable at high speed
Iso Speed decoupler
Comfortable
Cons
 
Giant Mountain Bikes Review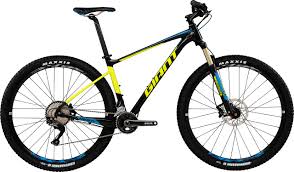 The Giant Fathom is a hard tail mountain bike designed for rough trails. This model is built with large Maxxis Ardent Race 27.5×2.6, folding, tubeless tires. These help to reduce the effect of bumps and rocky ground. You can have a tube fitted if you prefer to ride with tubes. The advantages of going tubeless are that it eliminates any friction between the tube and the tire. This makes wheel rotation smoother. Tubeless sealant added to the tire may cause flats sooner than expected. Lastly, you can lower the pressure in the tire. This causes the tire to deform on rough ground, molding itself to the shape of the ground. The result is increased traction and control.
Where stopping power is concerned, this Giant has BR-MT400 Shimano hydraulic disc brakes. These brand of bakes is one of the most trusted in the market. Hydraulic brakes are preferred to mechanical brakes because they work well in all weather conditions and require less maintenance.
Pros
Efficient climber
Dropper seat post
Stable cornering
Cons
Poor grip on loose surface
 
Conclusion
The Trek Domane SL 5 is designed for riders who have speed and comfort at the top of their list of priorities. In this Trek vs. Giant Mountain bikes comparison, Trek's product emerges as the winner. It is ideal for the comfort conscious rider. Its lightweight carbon frame makes it durable and hardy while remaining light enough to take on high speeds. Giant's Fathom 1 is a mountain bike designed for rough terrain, steep climbs and descends. This is why it is not the best option for a long distance road rider.
FAQ
Is mountain biking really that hard?
Mountain riding involves sharp climbs, steep descents and rough rocky trails. A mountain rider must be able to handle the bike and stay safe in all these conditions.
Can my mountain bike work on road tires?
Yes. Road bike tires will fit on a mountain bike with 26 or 271/2 inch wheels.
On which bike can I burn more calories… mountain bike or road bike?
There isn't much difference in the two bikes. Speed makes the difference. A one-hour ride by a person who weighs 145lb at a speed of 15 miles per hour, on flat ground burns about 526 calories. Riding faster burns more calories.
I am a beginner. How far should I cycle in a day without overdoing it?
Anything between 40 and 60 miles a day is alright for a newbie cyclist.
What is the best food to eat before going cycling?
Load up on carbohydrates for energy. Oatmeal, rice, pasta and grains are good options.
Is it a good idea to ride in winter?
Not particularly. Salt, grit and sand could destroy your gears and suspension. If you have to ride, don't use your top-notch pricey bike. If you have an old bike, use that.