How much should it cost you to get around on two wheels? In our Trek vs. Santa Cruz, we give you the reasons why either of these bikes is worth the buy.
If you ever told me I would spend on a bike what I would spend on a used car, I would laugh. The idea seemed totally crazy for me at the time. I would only spend a lot of money on buying a car or installing an indoor pool which to me are assets. Turns out a professional bike is a worthy investment if you are a value-minded rider. One problem I always want to solve in a bike is weight. Though most bikes I bought were aluminum build, some components still made them heavy. I also want a bike that is reliable from the frame to the tiny details like folks to the bolts holding the shifters. Two brands I commend for making such bikes are Trek and Santa Cruz.
What are the differences between Trek vs Santa Cruz? How do they compare
| | | |
| --- | --- | --- |
| Model | Trek Emonda ALR | Santa Cruz Stigmata |
| Speed | 10 | 11 |
| Frame | 300 Series Alpha Aluminum | Carbon C |
| Weight | 20.04 lbs. | 18.1 lbs. |
| | | |
Trek vs Santa Cruz – A Detailed Comparison
Material
If you are going to spend thousands of dollars on a bike, it has to come with a solid frame. Trek Emonda ALR boasts of a lightweight aluminum frame. The grade of metal is 300 series Alpha aluminum which is lighter and more durable compared to normal aluminum. With less weight and a sturdier frame, this Trek bike's performance is quite outstanding.
Santa Cruz Stigmata features a Carbon C body. Carbon is the highest quality of metal frames by industry standards. This makes the Santa Cruz Stigmata a harder nut to crack compared to the Trek Emonda ALR.
Speed
Trek Emonda comes with a 10-speed drive-train which is nimble given the bike's featherweight aluminum built. A drop-down handlebar ensures you ride in a streamlined position. This helps you reach top speeds faster.
A Santa Cruz Stigmata boasts of an 11-speed cog. That extra gear on the Stigmata will have the Trek Emonda playing catch up. Not forgetting carbon beats aluminum weight-wise so the Stigmata is definitely faster.
Design
For design, you will not notice much difference between Trek vs Santa Cruz. Both frames feature the classic Speed Bike design with drop-down handlebars. One would argue that the two bike makers cooked from the same recipe. The only difference in the frame is the slightly curved crossbar on the Trek Emonda.
Trek vs Santa Cruz  – A Comparison Overview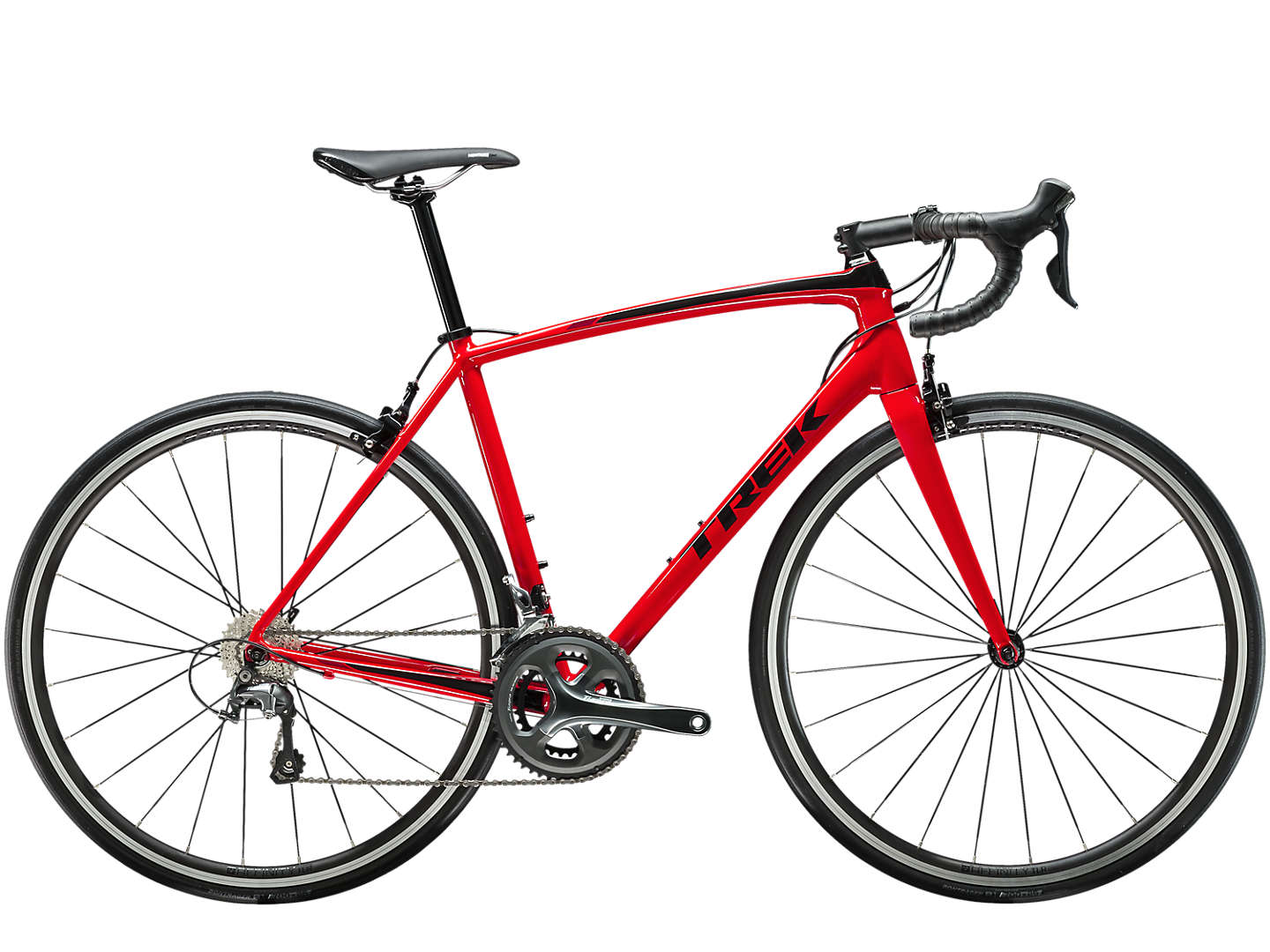 Trek is an industry leader in the manufacture of high-performance speed bikes. The Trek Emonda ALR is just one of the exquisite bikes built with aluminum but performs like carbon bikes. Other components like the front and rear hubs are alloy metal.
This bike features thick rims to give it more traction on the road. The Bontrager tubeless-ready rims are compatible with 700 x 25c tires. These rims are also compatible with 26c tires provided there is a 4mm clearance between wheel and frame.
Front and rear brakes ensure you have full control of the bike at top speeds. The drop-down handlebar keeps you streamlined for a smooth ride. The Trek Emonda is available in sizes of 50cm, 52cm, 54cm, 56cm, and 58cm. The Bontrager quality saddle is adjustable to ensure the bike suits your height better.
Pros
Strong durable frame
Quality bike components
Available in various sizes
Cons
May not suit short people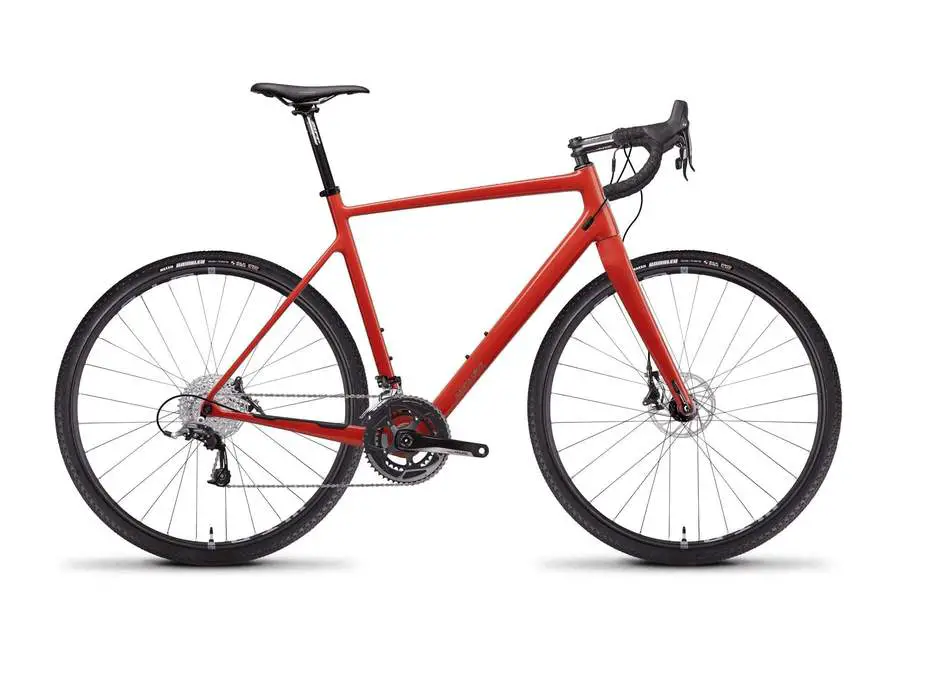 Santa Cruz Stigmata is for the pro-rider who wants to push their speed limit. This bike comes with an extra gear to make it faster on its quality frame. Carbon frame bicycles are durable as well. It means this bike will give you more room to perfect your riding skills to pro levels.
This bike also features 700 x 25c tires for high performance. Santa Cruz Stigmata can accommodate tires as thick as 41mm. Whether you are cruising in the city or tearing through rough roads up a mountain, this bike will not disappoint you.
Santa Cruz Stigmata features quality and durable Rival Hydro shifters. These shifters help vary the speed on the 11-speed drivetrain for a thrilling riding experience. Rival Hydraulic front and rear brakes provide reliable braking and stopping when need be.
Pros
Quality Carbon C Frame
11 Speed drive-train
Quality bike components
Cons
Not suitable for children
FAQ
How Do I Choose a Good Trail Bike?
Go for a bike with a futureproof design. Bikes from companies like Trek and Santa Cruz feature a mountain bike design which is timeless. Also check for things like frame and wheel size, drivetrain flexibility and performance, and suspension quality.
How Much Should a Descent Trail Bike Cost?
A good trail or mountain bike should cost around $2500 or less. Premium bikes like Trek vs. Santa Cruz can cost more than that. If you are a value-minded person who wants the best performance and durability from their bike, spending on the higher side is advisable.
How Much Does a Quality Mountain Bike Weigh?
A decent mountain bike should weigh between 17 pounds and 18 pounds. Be wary of any trail bike that weighs less than 17 pounds. Such a bike has poor handling, especially at high speed. The bike's frame and components may be low quality as well.
What Bike Size Suits My Exact Height?
The standover height of a bike determines its size. The right bike for your height should have an inseam distance (distance between your pants and the crossbar) of 1 to 2 inches. This gives you ample clearance on the top tube.
Which bike is great for exercise?
Riding experts would recommend a trail or mountain bike with the right frame and components. A bike with an aluminum or carbon frame is durable and tough which gives you more exercise sessions. A training bike should have tough rims and tires to absorb shock.
Conclusion
I must say it was hard picking a winner in my Trek vs Santa Cruz review. Both bikes have a solid frame, quality components, and nimble performance when it comes to handling. Since we have to pick a winner, I will go with the Santa Cruz Stigmata. That extra gear means I stay several paces ahead of the Trek. I also love the carbon fiber frame which is durable and will last me years of riding.