Whoever said you have to go to the gym to exercise clearly did not know cycling as a way to maintain physical and mental fitness. This Trek vs. specialized fitness bikes comparison will offer you some insight on which is the best fitness bike.
When I am looking for a great cardio work out, I always end up biking. With various fitness bikes available in the market, I burn calories while improving my cardiovascular fitness. When I was purchasing my fitness bike, Trek vs. Specialized fitness bikes captured my attention. These two giant companies have a reputation for manufacturing high-quality fitness bikes. So how do you know which brand is perfect for you?
What are the differences between Trek and Specialized fitness bikes
| | | |
| --- | --- | --- |
| Model | Trek FX 3 Fitness bike | Specialized Sirrus Sport Fitness bike |
| Frame material | Alpha Gold aluminum | Specialized A1 Premium Aluminum |
| Saddle | Bontrager H1 | Body Geometry Targa Sport |
| Grips | Bontrager IsoZone handlebars and ergonomic grips | Specialized alloy flat bars |
| Tires | 700*35c, Bontrager H2 | 700*32mm, Specialized Nimbus Reflect tires |
| Drivetrain | 9-speed | 9-speed |
| | | |
Trek vs. Specialized fitness bikes – How do they compare to one another?
Grip
A good quality handlebar and grip stands between you and long-lasting wrist pain. Both brands offer top quality grip handles for their bikes.
Trek FX 3 has Bontrager Satellite IsoZone gel coated handlebars which are ergonomically designed to take the shape of your hand as you cycle. They absorb fatigue impacts from the road to give you a comfortable ride as you exercise or cycle around the neighborhood.
Specialized Sirrus Sport has flat alloy handlebars which make for loose shoulders. Together with its long head tube, this road bike gives you an upright posture as you work out.
Forks
The Trek FX 3 has Bontrager Nebula carbon forks. These particular forks are performance oriented aero forks that significantly reduce the weight of the bicycle. They blend well with the bicycle's cockpit, making handling it quite easy.
Specialized Sirrus Sport has FACT carbon fiber forks and an alloy crown which makes it easy to control and steer the bike. However, they do not provide comfort as you peddle away your calories.
Weight
Trek FX 3 has a total weight of 11.38kgs, which is light as compared to other fitness bikes. It also has a load carrying capacity of up to 136kgs (300 pounds). Luckily, none of these measurements affect how fast your bicycle goes or its efficiency. They only contribute to its lightweight as you carry the bike to load it on your car rack.
Specialized Sirrus Sport weighs 11.47kgs (25.3lbs), which is also quite light as compared to other models of fitness bikes available in the market. It does not have a specific carrying weight capacity.
Trek vs. Specialized Fitness Bikes– A comparison review
Trek FX 3 Overview and Key features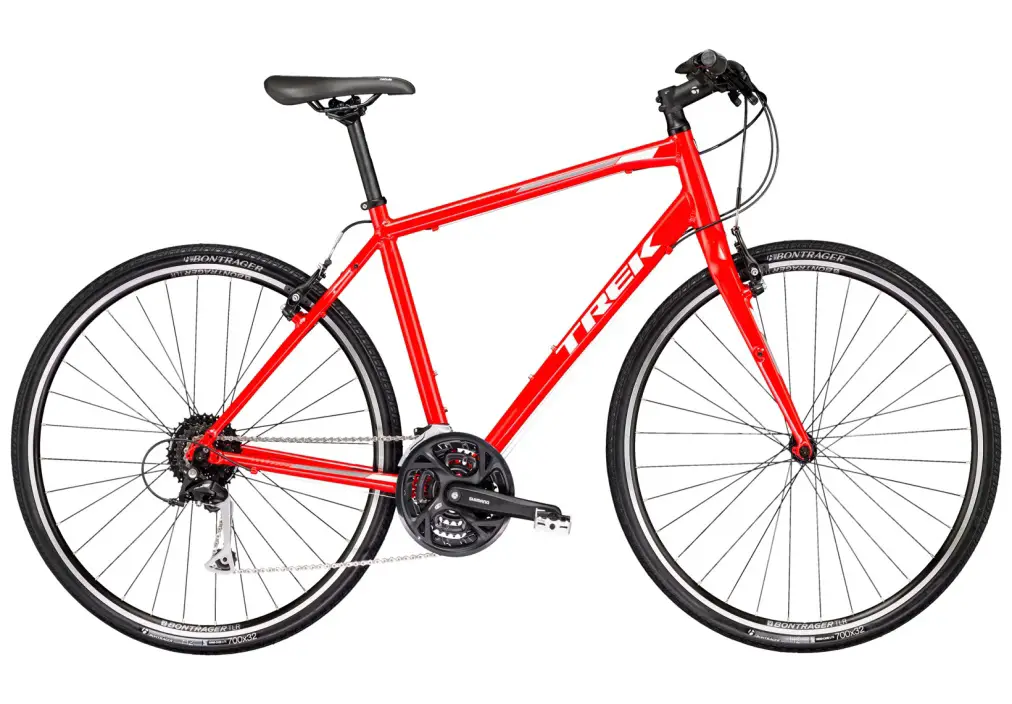 FX 3 is an excellent choice for urban cyclists who ride on busy roads and cycle paths. With its puncture-resistant tires, bigger wheels and slimmer tires, this bicycle is suitable for long fitness rides, local cruises, and commutes. Its lightweight Alpha Gold Aluminum frame, 9-speed performance drivetrain, and carbon forks make it a versatile and fast option for bikers without compromising on comfort. This hybrid bike also has ergo grips and IsoZone handlebars to eliminate pressure and provide excellent support.
What we like
Fitted with the Shimano MTB range, Alivio at the rear and Acera at the front, for more depth and maneuverability in varied ranges of inclines and down hills
Lightweight making it easy to carry
It has mudguard/rack mounts for easier accessorizing
DuoTrap S compatible which aids in mapping your miles and keeping track of your fitness
What we do not like
Limited braking performance
 
Specialized Sirrus Sport Overview and Key features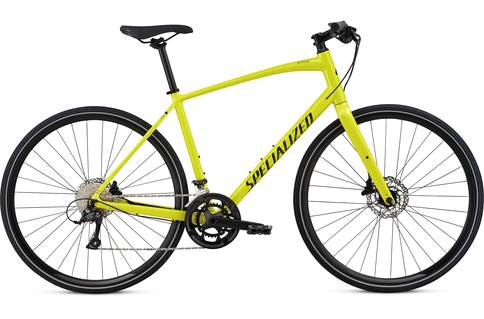 Specialized Sirrus Sport is a durable, lightweight and reliable fitness bike made from A I SL Premium Aluminum frame. It features a bombproof assortment of components to make your riding experience comfortable and pleasurable. From its reflective graphics to its rack and fender mounts to its Specialized Nimbus Reflect tires, this bicycle has it all.
Designed with Fitness Geometry, this nifty bike has a Body Geometry Targa Sport saddle which gives you good posture and allows proper blood circulation as you ride. Another impressive feature of this bicycle is its Microsoft/Shimano drivetrain mix. It has Shimano's M315 Hydraulic Disc Brakes as well as SRAM bits for a more consistent and powerful stop.
What we like
Durable and reliable due to its aluminum frame
Strategically located reflective graphics for easy visibility of the rider to other motorists
Nimbus Reflect Tires give the bike a smooth and speedy tread
Its Fitness Geometry design ensures the rider has good posture during fitness riding
What we do not like
Long rides may lead to your hand becoming numb
 
Frequently Asked Questions
What is a hybrid bike and why should I buy it?
Hybrid bikes are multipurpose bicycles which incorporate the characteristics of different bikes such as mountain bikes, touring bikes, and road bikes. They are a worthy purchase due to their versatility in different terrains.
What is the difference between a fitness bike and a mountain bike?
The main difference between fitness bikes and mountain bikes is their performance and comfort level. Fitness bicycles are designed to ensure comfort, good posture, and efficiency as you ride through the city. On the other hand, mountain bikes have more robust frames fitted with aerodynamic features for use in rough terrains.
How do I know the best bike size for me?
Most bicycles come with a size chart which displays stand-over heights. For mountain and fitness bikes, it is advisable to add 2-4 inches clearance while road bikes require 1-2 inch clearance for a smooth and comfortable riding experience. You may also opt to test the bike size in the store. If it feels right, then probably it is the right bike size for you.
How is an upright bike and a spin bike different from each other?
An upright bike, also referred to as a stationary bike, have fixed resistance levels, a computer display console, a broader and more comfy seat as compared to spin bikes, and heart rate sensors. We recommend this bike for seated workouts.
A spin bike, also known as indoor cycling bikes, are more similar to exercise bikes as they have multiple grip bars and a racing saddle. It is ideal for both standing and seated workouts.