Whether you want to get in shape or enjoy morning rides, a hybrid bike is all you need. In this Trek vs Specialized hybrid review, we explore two hybrid bikes and see how they compare to each other.
My first hybrid bike was a total mess. The frame felt feeble and threatened to snap if I pushed beyond its limits. I cannot remember how many times I replaced cracked pedals or have to replace the brake wires. I needed a solution that would solve all my biking issues for good. I decided to save up for something better. I was eyeing a Trek Hybrid bike because it had the features I wanted. Then I realized I could actually get a Specialized Hybrid with the same price but a cheaper price tag. Since both bikes are identical side by side, I decided to take both for a test run. These are my findings.
How do Trek Vs Specialized Hybrid Compare?
| | | |
| --- | --- | --- |
| | Trek Hybrid | Specialized Hybrid |
| Frame | Aluminum | Aluminum |
| Shifters | 8 Speed | 8 Speed |
| Weight | 29.24 lbs. | 27.11 lbs. |
| | | |
Trek vs Specialized Hybrid – Detailed Comparison
Material
The best cruise bikes boast of a high quality frame that boosts their aerodynamics. Trek hybrid bike features what they call an Alpha Gold aluminum body. It is sturdy and handles well in all outside conditions. Trek has installed a host of quality components on the frame to give their bike the best performance.
Specialized hybrid bike features an A6 SL aluminum frame. This frame is an alloy of several metals to give the bike its solid body. A6 SL aluminum requires less heat to form and is easier to mold. It also tends to be lighter compared to Alpha Gold Aluminum.
Speed
Trek Hybrid bike boasts of an 8-speed drivetrain. You will enjoy the shift of the gear as you cruise through towns or tear down jagged terrains. You also have hydraulic brakes that help you maintain control of the bike even at top speeds.
Specialized hybrid bike comes with an 8-speed drivetrain as well. It also weighs 2 lbs. less than the Trek Hybrid. Being lighter, the Specialized hybrid is bound to be faster. This bike has front and rear hydraulic brakes to slow down or stop when need be.
Handlebar
A handlebar with good grip allows great handling of your bicycle. Trek hybrid bike features a 31.mm Bontrager alloy handlebar with a 15mm rise. The bike also boasts of ergonomic Bontrager satellite grips. You will enjoy how well this bike handles on any terrain you place it in.
Specialize bike also comes with an alloy handlebar. The handlebar is double-butted to shift weight from the middle to the grips. This achieves a lightweight handle with more surface for gripping. I found the Specialized handle to have more grip, especially when doing stunts.
Trek vs Specialized Hybrid – A Comparison Overview

Trek has for a long-time been producing quality bicycles to cater to all cycling needs. They make hybrid bikes for men, women, kids, and unisex versions. This particular hybrid bike suits male cyclists who love to ride in the wild. The Trek female hybrid bike also has the same level of performance and comes in a cool Miami green color.
This hybrid male bike features a step-thru frame design for easy mounting of the bike. The frame boasts of quality aluminum and includes fixtures for adding accessories when need be. Feel free to fix a backlight, carrier, fenders or a water bottle mount for a better riding experience.
Trek hybrid bike features Bontrager alloy rims with DC20 formula alloy hubs. The tires are Bontrager 700x38c. This wheel setup is ideal for mountain biking as the tire thickness absorbs external shock.
Pros
strong and durable frame
Quality bike components
Available in various versions
Cons
Only available in two colors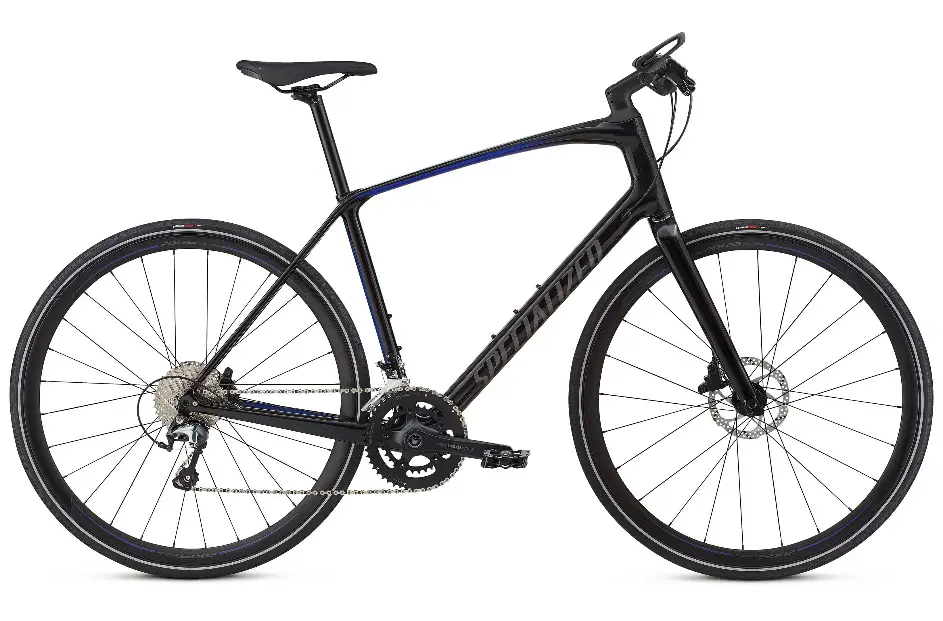 Specialized is a great maker of quality mountain bikes too. This bike company is ever competing with Trek ensuring they provide the same level of excellence in their products. Though the bike design is like that of the Trek, Specialized added other features to ensure the product is unique.
This hybrid Specialized bike features an A6 SL aluminum frame. This is a quality durable frame with nimble performance. Specialized hybrid bike also boasts of platform pedals which are comfortable to step on while riding. On both wheels are Promax F1 hydraulic brakes to give you full control of your bike at any speed.
A Specialized hybrid bike suits the avid biker living in the city. The ability to switch gears gives freedom to vary the intensity of your riding. You also have Shimano shift levers that are commendable in how they handle as well as longevity.
Pros
Quality aluminum frame
High-quality components
Size variety
Cons
Conclusion
From this Trek vs Specialized hybrid review, you can tell the two bikes are identical in most features. I have tested them on various trails and I must say I love the Specialized bike better. It feels lighter to handle which gives me more control. I also enjoy the ergonomic handles that feel stronger to grip. The front and rear hydraulic brakes are another feature I love about the Specialized bike.
FAQ
What is the best frame for a mountain bike?
A lightweight frame makes it easy to handle the bike on any terrain. Consider a mountain bike with an aluminum or alloy frame.
Does riding a mountain bike help with weight loss?
Bike riding is a form of exercise which can help with weight loss. A mountain bike comes with shift levers to vary pedaling intensity.
Which wheels are best for mountain bikes?
Consider bike wheels with a standard thickness for terrain riding. The best mountain bike wheels are 700x32c quality. If you are spending more time riding in the wild, tubeless wheels are ideal.
How do I maintain a mountain bike?
The longevity of your bike will depend on its build quality. Go for mountain bikes built with quality material or with parts from renown brands. A quality frame and bike components are easier to maintain.